Causeway Technologies is delighted to have exhibited at the Chartered Institute of Housing's 'Housing 2018' exhibition, held at Manchester Central between Tuesday 26th – Thursday 28th of June 2018.
The CIH's annual Housing exhibition is Europe's largest housing event, bringing together thousands of housing professionals to engage, connect and collaborate across an array of key themes and challenges within the housing sector.
The exhibition was divided up into a range of different areas, each with its own focus. Causeway Technologies exhibited within the newly launched Tech area of the exhibition, in which delegates and industry leaders were brought together to discuss the importance of technology within the housing sector. This included conversations around business transformation, future-proofing and the latest technologies that are helping housing providers to operate more efficiently.
Deputy Chief Executive of ForViva, Colette McKune, opened Tech@Housing with the first panel, 'Disruption and transformation coming to our world'. Colette McKune was joined by Rob Driver from Tech UK, Jay Epton from Microsoft UK and Alastair Parvin from the WikiHouse Foundation.
The panel began by discussing some of the key issues they felt could be addressed by technology within the housing sector. Rob Driver, Head of Public Sector at Tech UK, urged the need for the housing sector to move away from bulky procurement models and encouraged the sector to be more innovative in order to progress. Alastair Parvin, Co-Founder of the WikiHouse Foundation, added that we must reform the operating system we all work within in the housing sector before claiming that the majority of problems the sector faces are a result of substandard procurement models.
Alastair continued, outlining that for every £1 we spend on a building, 49p goes to shuffling paper around in our paper-based supply chain. He then went on to suggest that we are currently entering the fourth industrial revolution, which will see our whole society move towards becoming entirely paperless. To summarise, Alastair urged housing providers to "stop waiting to be disrupted and step up to the plate" before calling for these organisations to "collaborate and invest in technology".
The panel host, Colette McKune, then continued the discussion around the use of technology by housing providers, asking the panel if they felt that the housing sector is resistant to change due to either fear or lack of understanding.
Panellists discussed this further, with the majority feeling that business leaders and chief executives need to become more involved in their organisation's business transformation, to embrace change and new technologies, and to encourage this change within both their individual organisations and the sector as a whole.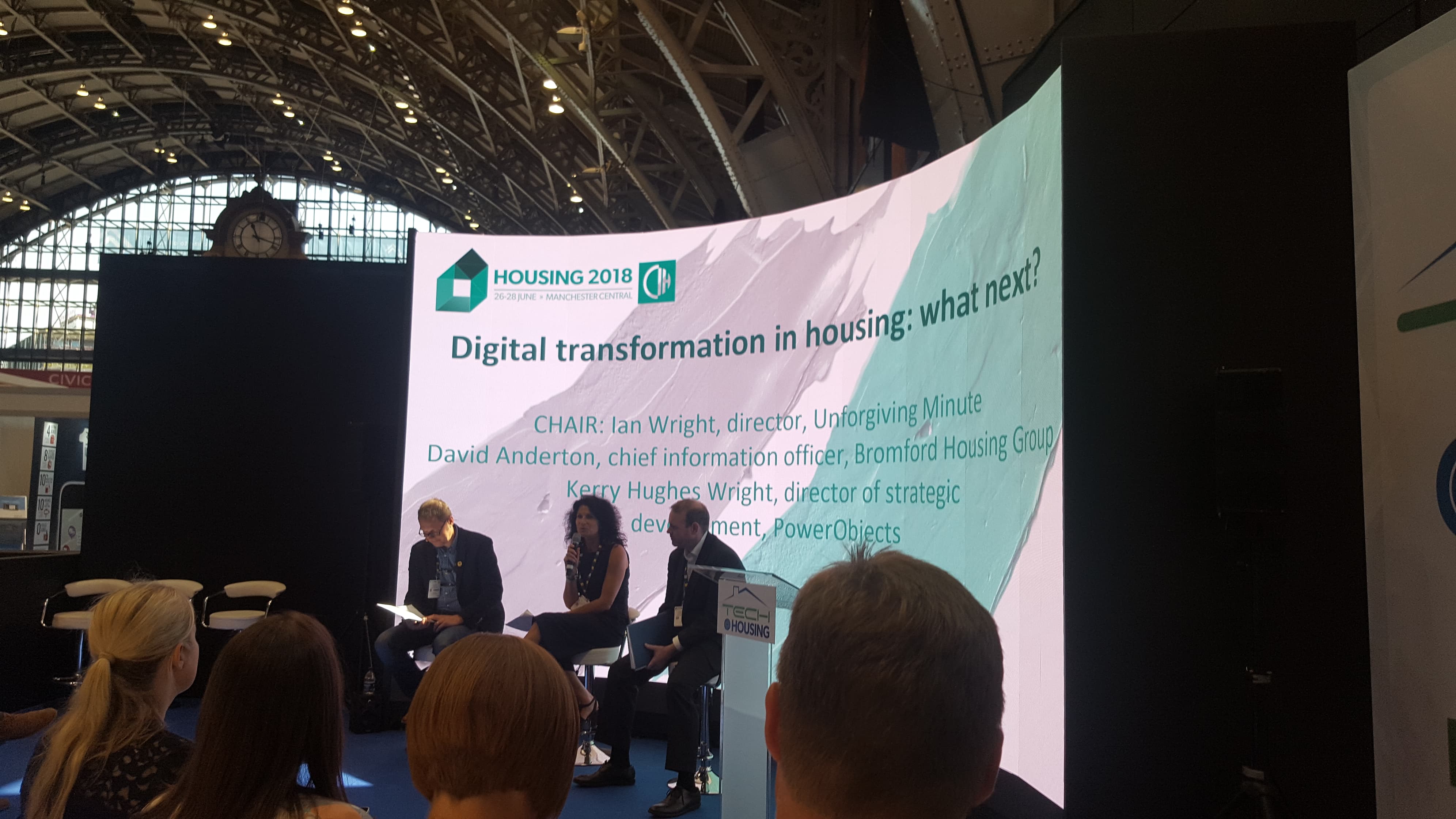 The next panel, 'Digital transformation in housing: what next?', was hosted by Ian Wright, Director of Unforgiving Minute. Ian was joined by Kerry Wright, Director of Strategic Development at PowerObjects and David Anderton, Chief Information Officer at Bromford Housing Group.
David Anderton kicked off the panel by unpacking the term 'digital transformation'. David explained that he hates the term, as he feels the digital part is only one aspect of the transformation that needs to occur within an organisation. He suggests that rather than focussing on how to digitise your organisation, the question you should be asking is "how am I going to make my processes simple and easy?".
Kerry Wright agreed, suggesting that before an organisation embarks on any kind of digital transformation, they should first challenge their own processes. Both David and Kerry emphasised the importance of fully understanding the problem you are trying to solve before attempting any kind of digital transformation project.
Kerry added: "It is essential that you standardise your processes, so you can see your transformation project through. The quicker you do this, the quicker you can move towards this change."
The panel agreed that you must closely observe what your customers are doing and identify their problems before beginning to analyse how these might be solved. Only once you have this vital information, the panel argued, can you begin to build the collaborative and trusting relationships with technology companies that are necessary for seeing the project through and effectively overcoming any obstacles.
David Anderton ended the panel with a though-provoking note about digital transformation: "If you do not simplify your processes now, you will not be able to take the leap into the disruptive technologies of the future".
We then moved onto the Tech@Housing Silent Theatre after lunch, where Nick Atkin, Chief Executive of Halton Housing Trust presented 'A different perspective on maintaining our homes'.
Nick opened his presentation by discussing the way most housing providers currently deal with maintenance issues: "We wait for something to break, and then rush out in an unplanned and uncoordinated way to fix it. That's a crazy way of delivering our service".
Nick continued, highlighting that it costs four times more for Halton Housing Trust to repair a boiler when it needs fixing out of hours. As a result, the housing association have began to adopt a different process for maintaining their homes and are now investing in a pre-emptive approach to maintenance.
For instance, Halton Housing Trust are beginning to install sensors in homes using IoT technology. This is allowing them to both monitor performance and to react to any inconsistencies or causes for concern, whilst also planning for annual maintenance. Nick emphasised his belief that this type of 'Smart Home' will become the home of the future as we move towards managing our homes in much more predictive ways.
As the three-day exhibition drew to a close, delegates were left with a greater understanding of the need for transformation within the housing sector, as well as the importance of actively embracing the digital age in order to improve efficiencies and deliver future-proof homes.