Thomas Consulting were amongst the first consultancies to trial Causeway Live Design, the first live design engineering platform that brings all infrastructure disciplines into one design environment.
Utilising the new software produced remarkable results on several projects.
One such project that saw fantastic results was the Castle Lane, Garstang – a premier residential development – where Thomas Consulting planned the entire project using Causeway Live Design:
"We used Causeway Live Design to do all the planning work. Essentially, we turned five days' work into about a day. It was that effective."
"The real cost saving is where everything is integrated, making it so quick to design."
Read on to find out how well Causeway Live Design helped to:
Turn a five-day project into a single day's workload to reduce quotation price for the client and increase competitiveness
Complete hours of flood planning work in just twenty minutes
Customer Information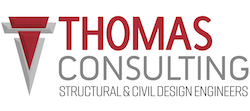 Customer Name: Thomas Consulting
Industry: Civil Engineering Design Consultants
Causeway Solution:
Causeway Live Design, the first 'live' civil engineering design platform that brings all infrastructure disciplines into one design environment.
Seeing the bigger picture in real-time
Thomas Consulting has used Causeway PDS and Flow to design roads and drainage networks for 15 years, benefitting from intuitive tools to speed up the design process.
We asked them to be one of the first consultancies to get access to Causeway Live Design, a single design environment for digital modelling, road design and drainage design. They jumped at the opportunity after seeing the time and cost savings of a fully integrated design process.
Julian Pearson, Associate and Chartered Civil Engineer at Thomas Consulting, said:
"The real cost saving is where everything is integrated, making it so quick to design. Now, it's all in one place. You can create your surface with ease, then arbitrarily design your roads. It doesn't need to be a perfect finalised design because its planning, and this is where Causeway Live Design can really improve productivity. From here we can manipulate that design when we have improved fees for the detailed design."
Thomas Consulting can now design in an interactive environment to seamlessly move, tweak, and experiment. Making it is quick and easy to produce feasibility designs and progress them to detailed design, moving seamlessly between drainage networks to road modelling.
New Innovative Tools to Support Drainage Design
Julian and the team used the new Overland Flow module as part of the Causeway Live Design bundle on the Castle Lane project to analyse how water will flow over the ground surface and to determine the position of the blue/green corridors.
They would typically expect flooding data on the site beforehand, but there was none. The fee for producing a model without this data would have cost thousands and more than the report itself. Luckily, the Overland Flow routing helped to save a huge amount of cost and time for the client.
"We used the Overland Flow module to demonstrate where the water was going and how we would contain it on site. That has gone through planning, and it could have been queried for months without that demonstration."
Simplifying the approval process
Approvals are a significant challenge for consultants and developers.
Each authority follows different guidance: the water authorities, the local flood authorities, the Environment Agency, etc. When you throw more codes and manuals into the mix, knowing what to refer to can be challenging. To make matters trickier – it changes from region to region.
When speaking about Causeway Live Design's biggest benefits, outside of its speed and productivity, Julian said:
"We can demonstrate everything, like planning, to other non-technical people. Rather than have lots of text and explaining that text, you demonstrate it visually and they can see it."
Planning authorities employ engineers with experience in drainage design but their knowledge cannot be expected to match their counterparts who specialise in the discipline. It can make explaining proposals challenging, but Causeway Live Design has changed that.
"We need to be able to explain proposals to a non-technical person. So, when they're reading the standards, they can check our numbers, but then also look at exactly what we're proposing as well."
Thomas Consulting can quickly make changes to one element of the design with the rest automatically updating to accommodate it, which was not possible before.
"With Causeway Live Design, it's designed to move things and try things, and that's huge," said Julian.
Getting engineers up to speed
The intuitive, integrated design software is simple to use which ensures that onboarding is quick and easy. When graduates or new hires are added to the team, they can familiarise themselves with the software and start working productively with minimal training requirement.
Julian commented:
"Causeway Live Design doesn't just increase productivity; it also creates the perfect visual effect. It helps graduates all the way up to senior engineers because you can visualise and understand things much better."
Helping graduates succeed from the start
Many consultancies and developers face the same issue when it comes to graduates. Even the most qualified need to learn how to use the software – and the best practice of their employer. But that is almost impossible without seeing the whole design in one place.
Before trialling Causeway Live Design, Thomas Consulting took on a graduate that struggled to wrap his head around the unique design disciplines.
"If he had access to Causeway Live Design, I think it would have increased his productivity and allowed him to experiment a little bit more. Because the great thing about Causeway Live Design is that it speeds up the process and allows you the time to look and play with it and be more innovative."
In the brief time that Thomas Consulting has used the solution, they have used it to train graduates and recruits live and remotely – talking and showing them through the process.
Bringing infrastructure down to net-zero
Thomas Consulting has an ethos of developing engineers that promote sustainable development, and it is ingrained into their culture.
"Ultimately, we need to develop engineers that want to design sustainably themselves. It all comes down to sustainable development, and Causeway leads on the software front, enabling us to design those things."
As members of ICE, the firm believes in President Rachel Skinner's goal of achieving net-zero carbon for infrastructure by 2030. But there is lots of work to be done and changes to be implemented before this can happen.
"We have to continue developing to keep the economy moving. It's human nature. And if we're going to do it, we must consider future amenity and biodiversity," said Julian.
"At the same time, unfortunately, people aren't taking how extreme these storms are seriously enough. More needs to be done on that front, and Causeway Live Design can do that. There is nothing stopping this software. Causeway Live Design from analysing up to a one in five-hundred-year storm.
"We can make the right changes, but the [climate change] legislation needs to be in place."
Building a better future together
Causeway Live Design is built on decades of experience and constant development, with Causeway's solutions growing with the industry.
Causeway works very closely with their customers to truly understand the challenges consultancies face. With support from customers like Thomas Consulting providing valuable feedback, Causeway has been able to develop software that really impacts productivity.
"We're (civil engineering) in a massive state of change. Luckily, Causeway is changing with us and updating its software to make it more productive to those needs. They're developing as the industry develops, and you're going to see more of that as legislation changes, and we see more flooding."