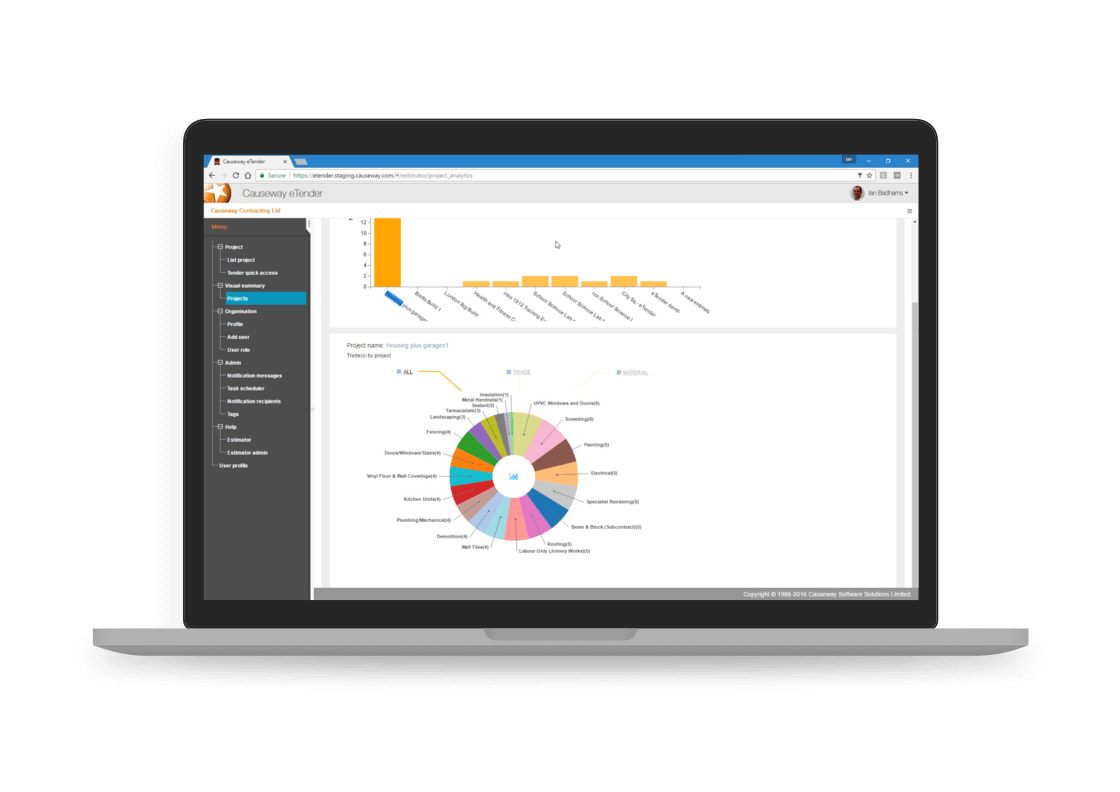 Take Control of the Tendering Process Across Your Entire Subcontractor Base
Streamline the tendering and bidding process using Causeway eTender.
Causeway eTender is a secure, web-based digital tendering and bidding system for contractors and sub-contractors. The platform automates the sending out of tender enquires and receipt of bids and eliminates email overload by allowing you to store project documentation online.
The dashboard view lets you monitor the status of each tender and see at a glance which packages have been priced by which suppliers. Use the bid comparison feature to compare and evaluate returned bids and make the right choice of supplier every time.
eTender seamlessly integrates with Causeway Estimating making it easy to create, send and respond to tenders. Sub-contractors can download tenders to price, or can price them directly online adding notes and documents.
Enhanced Tender Management
eTender automates the sending out of tender information to selected suppliers and helps manage the process of tendering and bid receipt. There is no need to re-send packages, subcontractors will be automatically notified if package contents or details change. View, evaluate and compare submissions directly in eTender when all bids have been received.
Document Allocation
Create projects quickly and use sophisticated document assignment to choose what information is relevant to which trades and subcontractors. Allocate documents to the whole project for circulation to all trades or tag documents for specific trades in order to provide just the information required and avoid information overload.
Tender Alerts and Automated Notifications
The days of chasing subcontractors for their price are over. eTender does this automatically for you. Configure the system to send tender acceptance reminders and due-date reminders. Customise the content of system-generated emails and notifications to fit in with your company preferences and branding.
Dashboard Summary
A dashboard summary of all your projects shows at a glance the status of each project and work package. Select a project to drill-down and see more detail about specific work packages and trades. Track progress with a visual summary showing the received, read and submitted status for each subcontractor.
Seamless Integration With Causeway Estimating
Estimators can continue to work with Causeway Estimating. eTender operates in the background sending out tenders for you with supplier responses automatically imported for approval.
Trusted By Specialists
See how our estimating solution has helped organisations to improve accuracy and reduce cost across the tender process while winning better work.
Adopting Causeway's estimating solution was part of a digital transformation programme to join up all the commercial data across bidding and tendering. The solution provides more thorough data to the commercial team once we had won a scheme and standardises our procedures throughout the group. The result is that we can stay competitive by optimising resources and decision making.
Giovanni Asoni, Estimating Manager Esh Construction
Explore Our Other Bid Solutions
Explore a full suite of integrated bidding, cost planning and tendering solutions designed to help you win more profitable work, transform supply chain performance, and reduce the time and cost of handling subcontractor pricing.
Estimating

Win more work and choose the right suppliers by controlling the bidding and tendering process.
Cost Planning

Used across the globe by major cost consultants and smaller specialist companies to optimise the accuracy and timeliness of cost planning and cost management.