Time and Attendance at the Heart of Causeway Donseed
A cloud-based solution designed for construction contractors.
The Causeway Donseed biometric labour management solution provides construction contractors of all types with the project data they require in real-time. The solution integrates industry-leading fingerprint and facial recognition technology to capture consistent, reliable and accurate biometric data on site.
Centralise your Labour Management Data in the Cloud
The Causeway Donseed biometric labour management solution is configurable to suit your specific requirements.
Time & Attendance
Record accurate site attendance details with biometric timesheet data.
Payroll & Expenses
Fully build up to gross pay with automated overtime rates and expense claims.
Labour Tracking
Establish critical cost controls by reviewing budgeted hours vs. hours worked on site.
Health & Safety
Minimise your exposure to health and safety risks and ensure compliance.
Online Inductions
Save time by digitsing your pre-enrolment process for new operatives joining.
HR & Records
Manage training certifications, competencies and Right to Work records.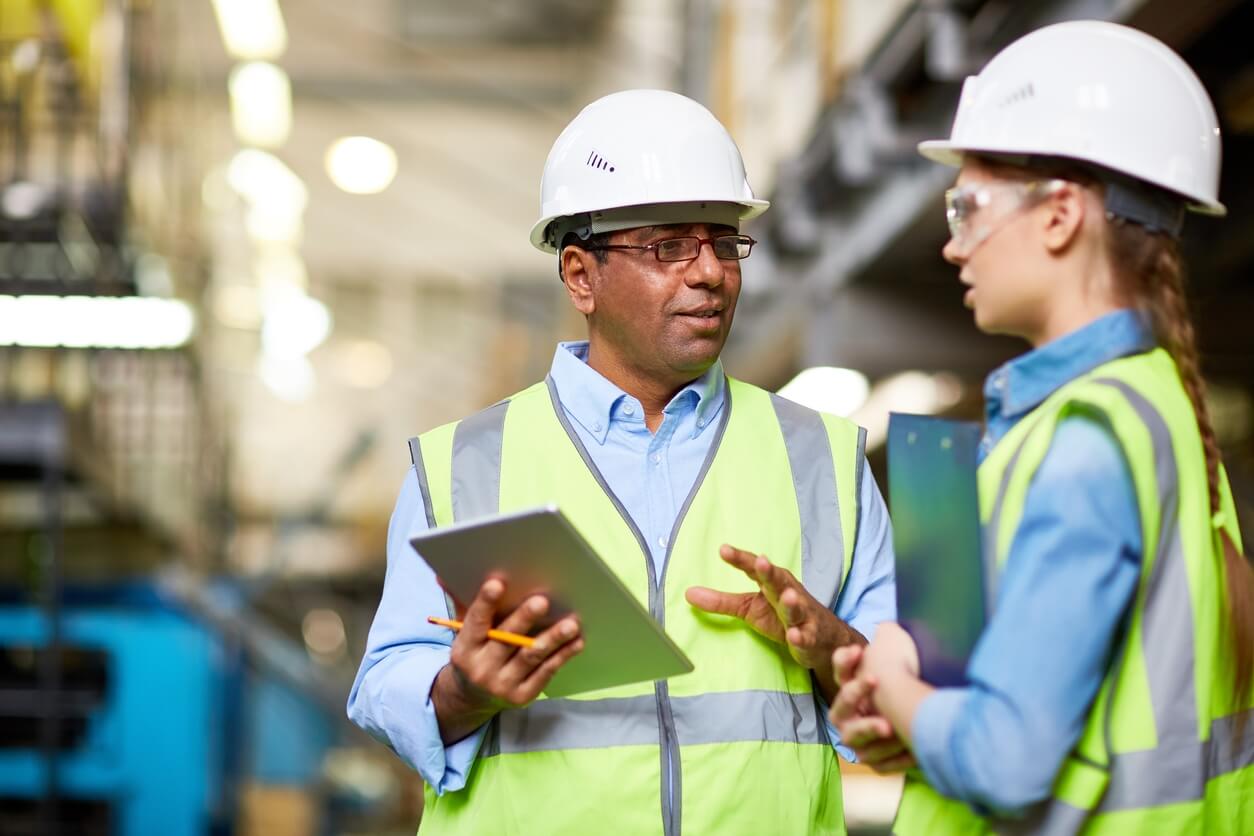 Multiple Identification Options
Whether you're working on a single scheme site or multi-site project, we have a Causeway Donseed hardware option ideal for every project and every size of construction contractor.
The Causeway Donseed Portable Fingerprint Recognition Tablet is a compact touchscreen device with a built-in industry-leading FBI-certified fingerprint sensor. With no hard-wired IT installation required on site, the portable nature of the tablets make this device an ideal identification option for transient construction workforces.
The Causeway Donseed Wall-Mounted Facial Recognition Unit utilises state-of-the-art facial recognition technology as a non-contact form of identity verification. These units are the ideal identification option for large-scale projects.
The Causeway Donseed iOS and Android Mobile Application is cost-effective option for verifying identification when biometric technology is not required. The downloadable app utilises geo-tagging and facial capture technology.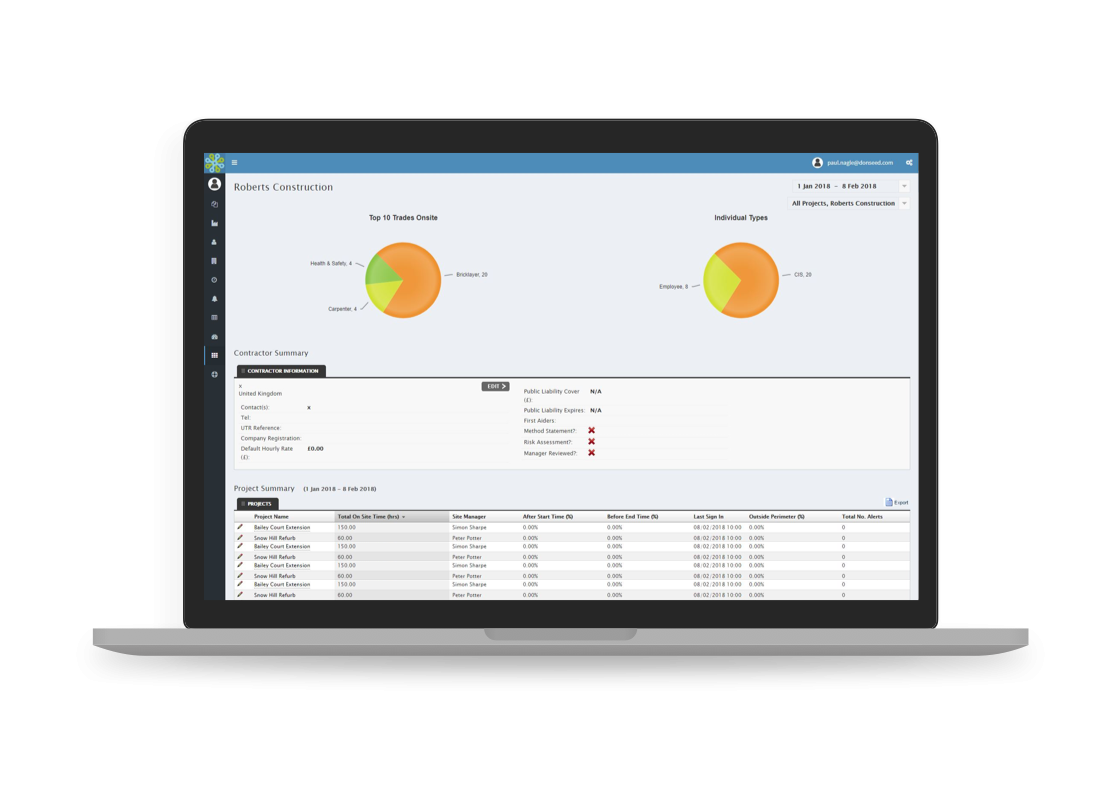 Accurate Data in Real-Time
Biometric data is consistent, reliable and accurate.
Unlike passwords, fobs, smartcards or paper timesheets, which have been traditionally used in construction labour management, biometric identifiers are a much more secure and accurate way of identifying people attending your sites.
By ensuring that project data is consistent, reliable and accurate at the front-end, the Causeway Donseed biometric labour management solution can, therefore, provide significant project insights to construction contractors. A contractor's data is accessible in real-time via the Causeway Donseed cloud-based portal.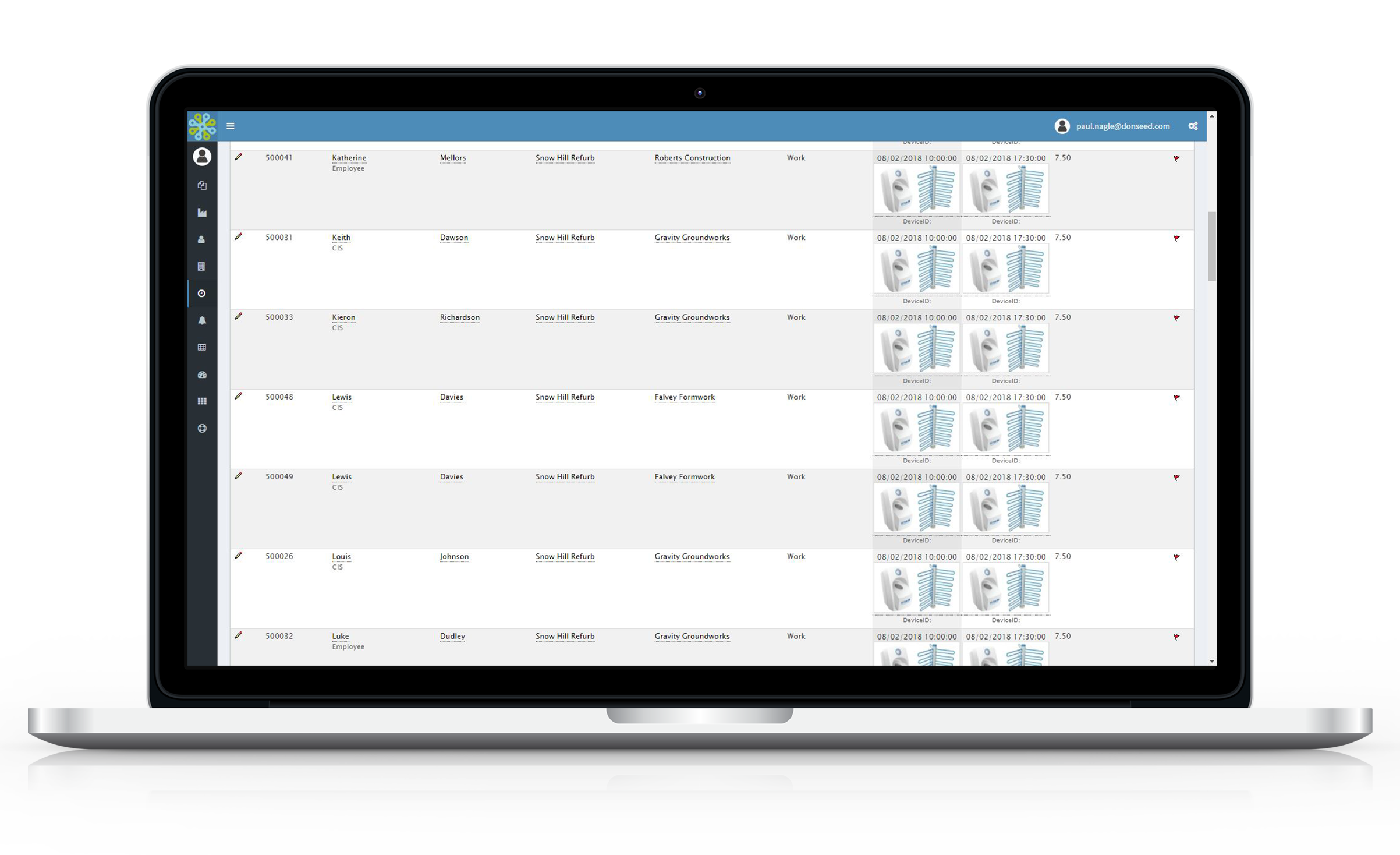 Insightful Data Outputs
Powerful reporting and automated compliance alerts.
The Causeway Donseed reporting functionality gives you deep insight into your data, allowing you to make informed decisions when they are needed. There are a number of pre-configured system reports which can all be quickly exported into CSV, Excel and PDF formats. Scheduled reports allow you to set-up custom workflows so that a set group of people receive a specific report via email on a daily, weekly, monthly, quarterly or annual basis.
The automated compliance alerts functionality helps you to proactively manage your workforce by allowing an individual or a group of people to receive a notification when specific criteria, like no first aider on site, is triggered.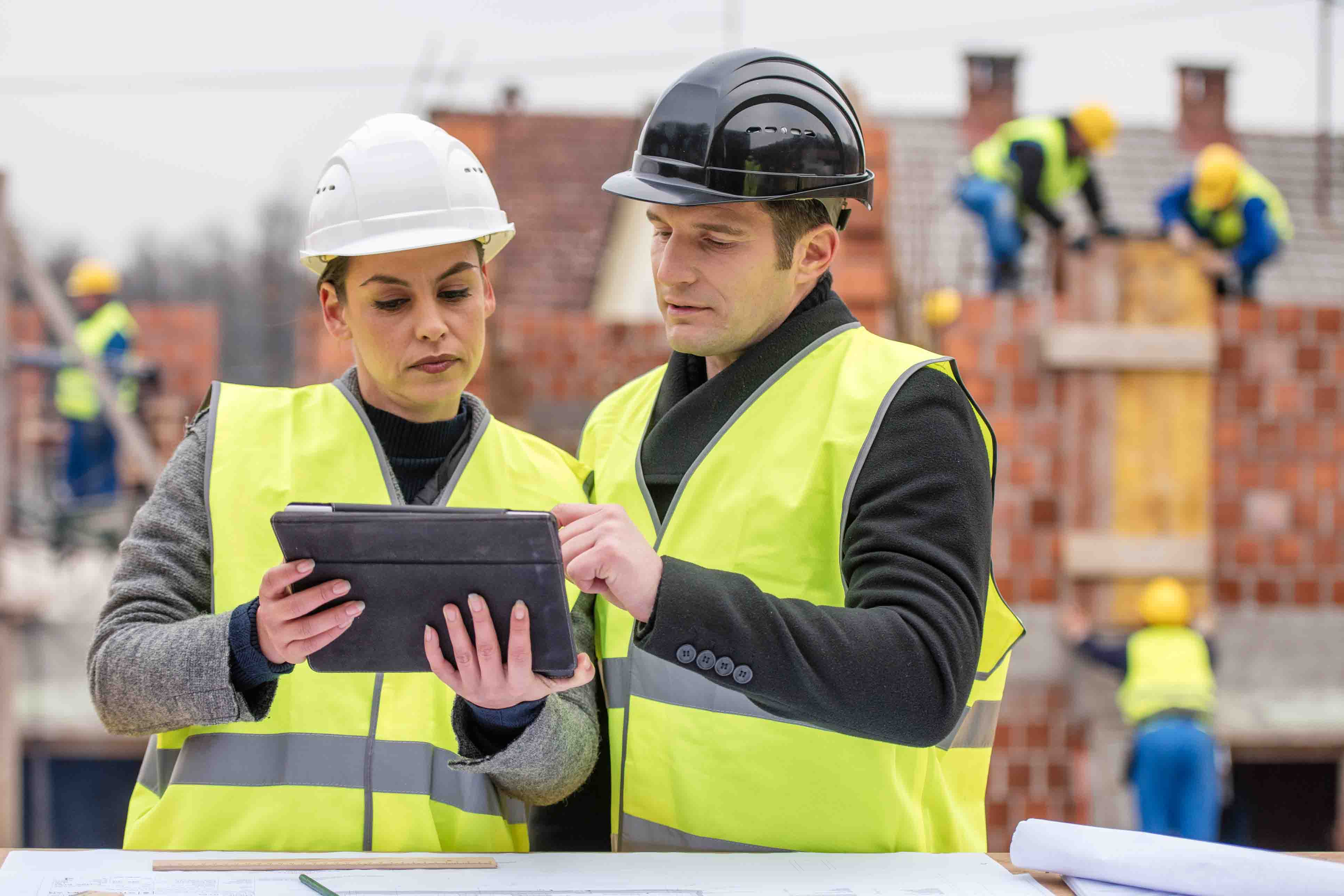 The Cost of Doing Nothing
Our customers typically reduce labour costs by 20%.
The Causeway Donseed biometric labour management solution has been designed to deliver significant labour cost savings by recording accurate biometric time and attendance records, reducing the time it takes to complete administrative tasks and digitising site inductions. The potential labour cost saving the solutions can bring, both in terms of only paying for time worked on site and productive time in Head Office, can simply no longer be ignored.
Causeway Donseed Customer Case Studies
Join over 200 contractors currently using our Causeway Donseed biometric solution.
The solution is designed for construction and it's not all about the time and attendance; it isn't just a clocking-in clock. Behind the scenes the software tells us whether there's an SMSTS or SSSTS on site and a first aider so we can tell from Head Office that we are compliant at all times.
Steve Harper, ECL Civil Engineering
It enables us to resolve a lot of wage queries quickly and easily as it gives us a huge amount of information.
Liam Donoher, Mitchellson
Explore Our Causeway Donseed Solutions
Transform your labour management with our complete Causeway Donseed suite.
Biometric Access Control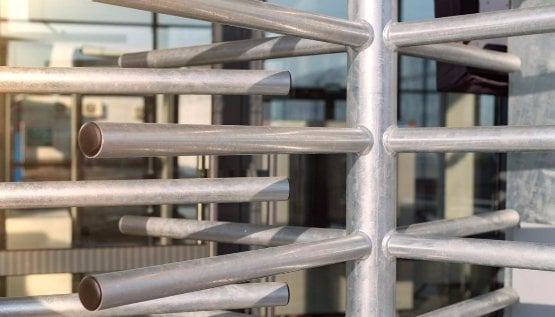 The Causeway Donseed biometric access control solution provides construction contractors with a highly effective way of controlling site access, recording accurate time and attendance data and monitoring training certifications.
Online Inductions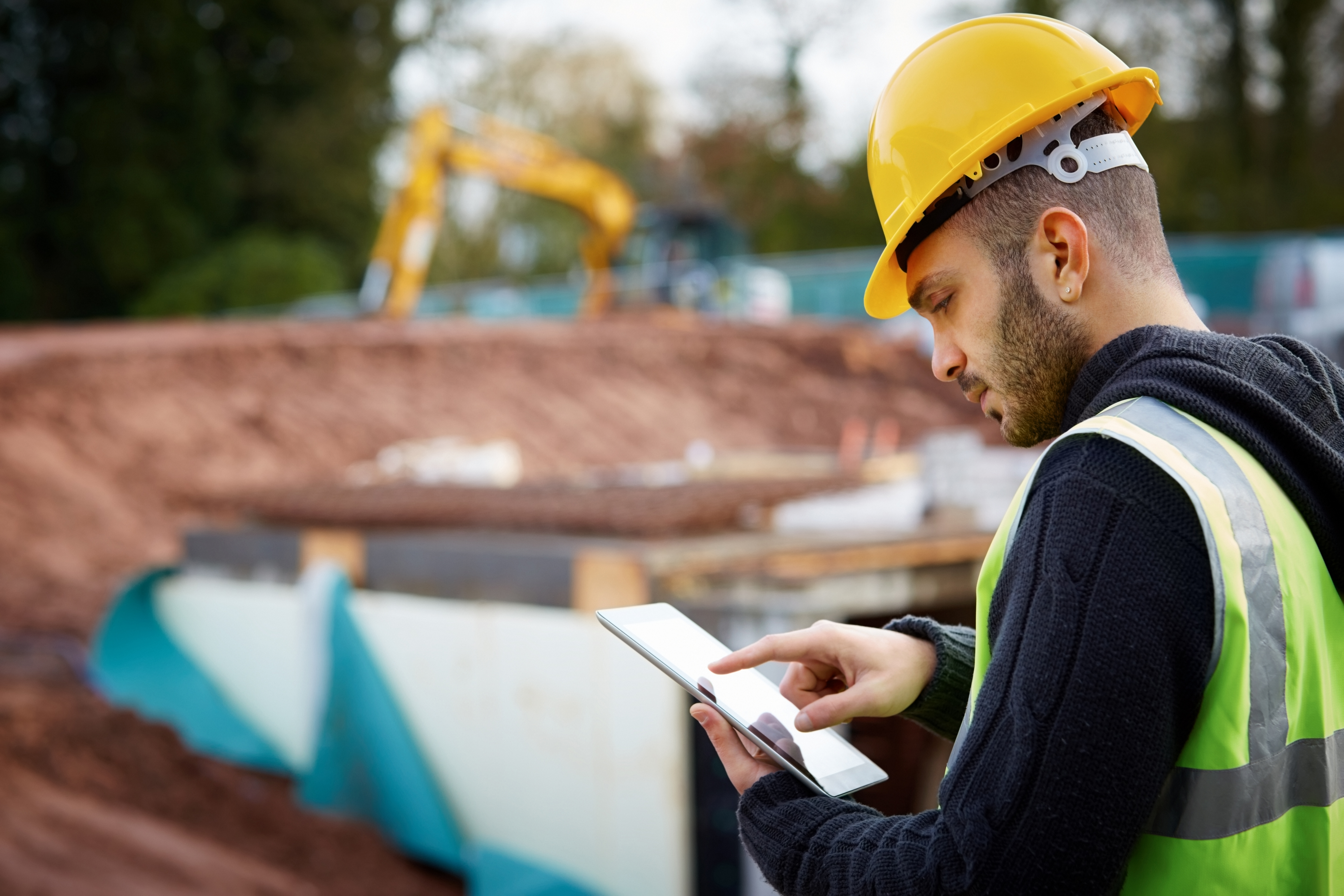 The Causeway Donseed online induction solution provides construction contractors with a fully customisable and efficient way of pre-enrolling new operatives before they attend site for the new first time, saving time and money.
Customers Using Causeway Donseed