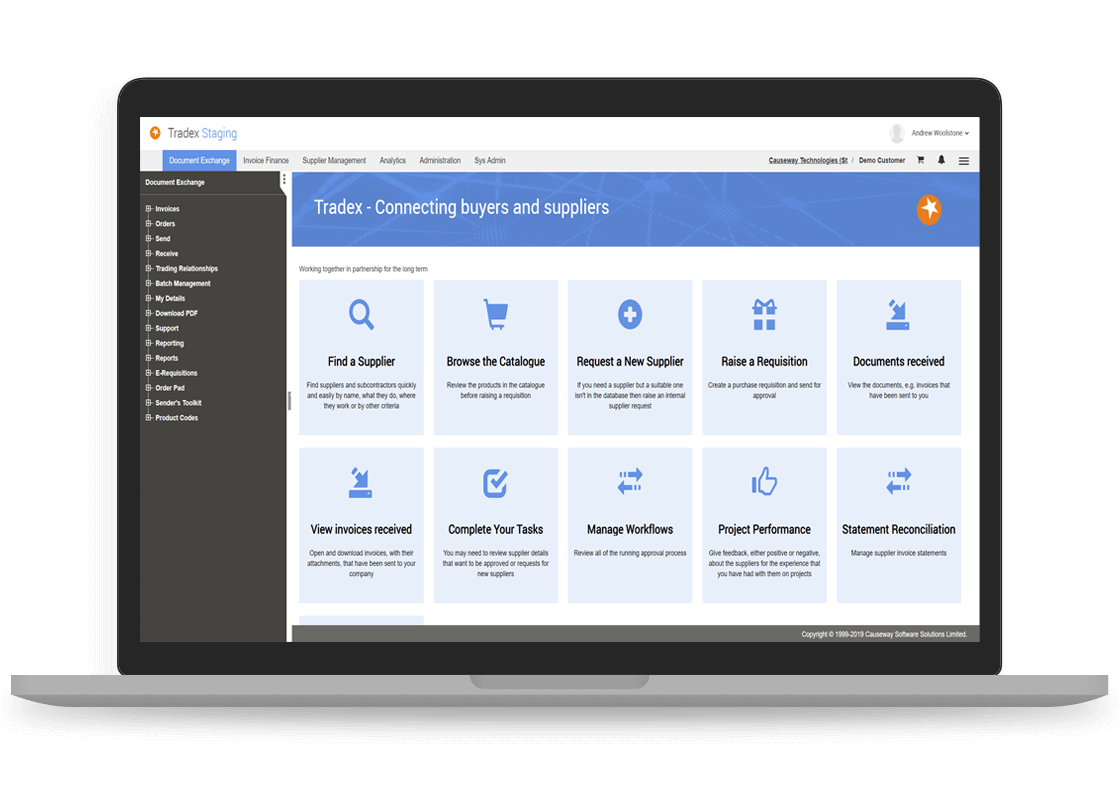 Digital Transformation, Today
Eliminate the inefficiencies and errors associated with handling of paper and manual data entry.
Tradex supports organisations in all stages of their digital transformation from e-Invoicing through to the electronic exchange of purchase orders, order acknowledgements, shipping and delivery information, followed by payment updates, supplier statements and remittance advices.
The platform also eliminates inefficiencies associated with manual data entry and reduces both supplier payment queries and manual invoice statement reconciliations, improving invoice straight-through processing rates.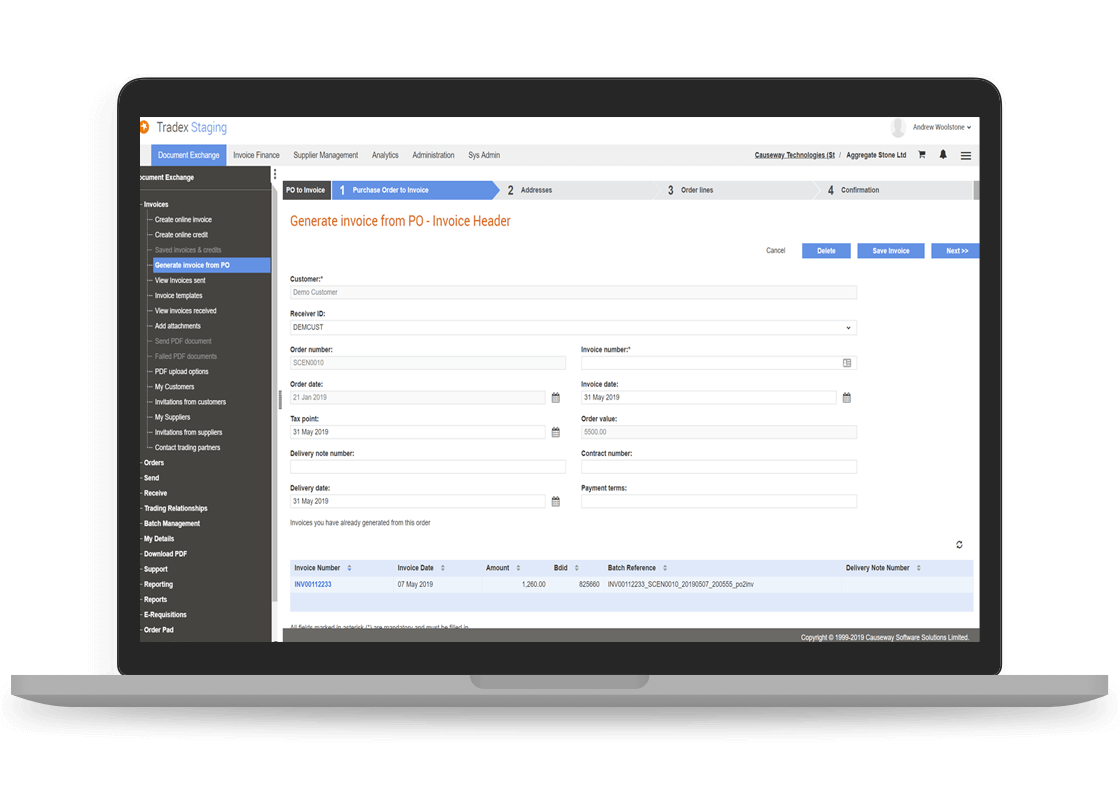 Trade Electronically
Electronically send and receive trading documents such as invoices, requisitions and purchase orders.
Tradex's e-Invoicing software enables organisations to trade electronically through a scalable and flexible integration hub that supports multiple document types and procurement processes.
Shared services and rule-based workflow options ensure all users retain process control, improve visibility and drive efficiency. Data exchange options range from manual processes to fully automated and encrypted data transfer.
The business rules capability allows for automatic application of specific checks to documents to ensure the highest levels of straight-through processing of invoices and the lowest levels of supplier queries.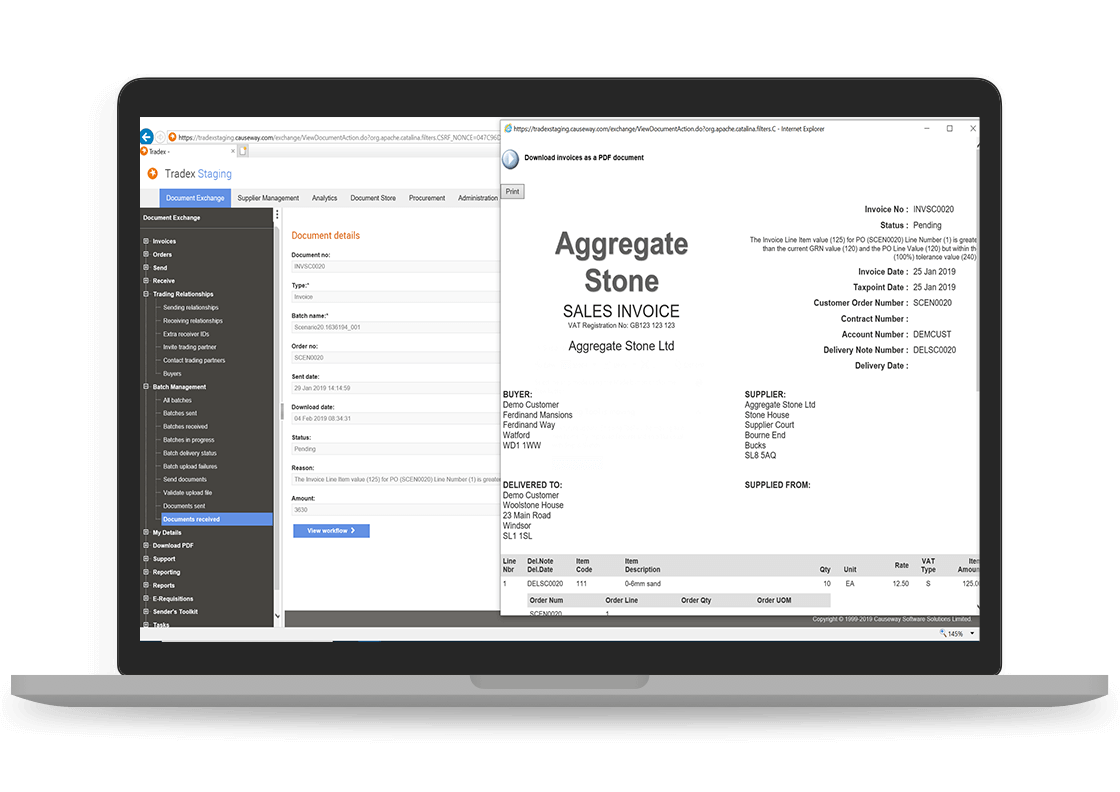 e-Invoicing Leading to Straight-Through Processing
Automatically check invoices against orders and receipts and have them flow directly into the finance or ERP system
The Tradex journey starts from receiving invoices electronically from your suppliers.
This progresses to the sending of and matching to purchase orders, simplifying the experience for your suppliers.
The ultimate benefit of straight-through processing of invoices becomes a reality when invoices are automatically checked in Tradex against orders and receipts and then entered directly into the finance or ERP system without anyone involved.
Dealing only with exceptions and ensuring that suppliers are accountable and integrated into the process ensures the business is done efficiently and cost-effectively.
Tradex For Buyers
Analytics
A fully integrated Analytics/Dashboard capability allows management KPIs to be displayed graphically in real-time, ensuring best use of the platform.
Business Rules
Automatically perform checks on all incoming invoices and return them to sender when invoices don't meet requirements, saving your staff time.
Document Management
A single, authoritative repository for storing, organising, controlling and managing electronic documents.
Invoice Approval
Once invoices pass your business rules, ensure their approval by all necessary parties and download them into your accounting system.
Invoice Payment Status
Share invoice approval and payment status with suppliers for greater transparency and fewer supplier queries or concerns.
Product Catalogue
Select items from a list of products from a catalogue which is uploaded into the Tradex portal by approved suppliers.
Tradex For Sellers
Managed Email
Send customers order acknowledgements, advance shipping notices, invoices and many other documents with track and trace of receipt.
PDF Upload
Send invoices to your customers through Tradex from a PDF format for automated data extraction.
PO Flip
Automate the creation of supplier invoices by using the corresponding purchase order (PO) details to generate invoices, without the need for manual re-keying.
Sender's Toolkit
Edit and resubmit rejected invoices using the Tradex platform rather than recreating them from scratch or editing them in your accounts system for faster submission and therefore payment of invoices.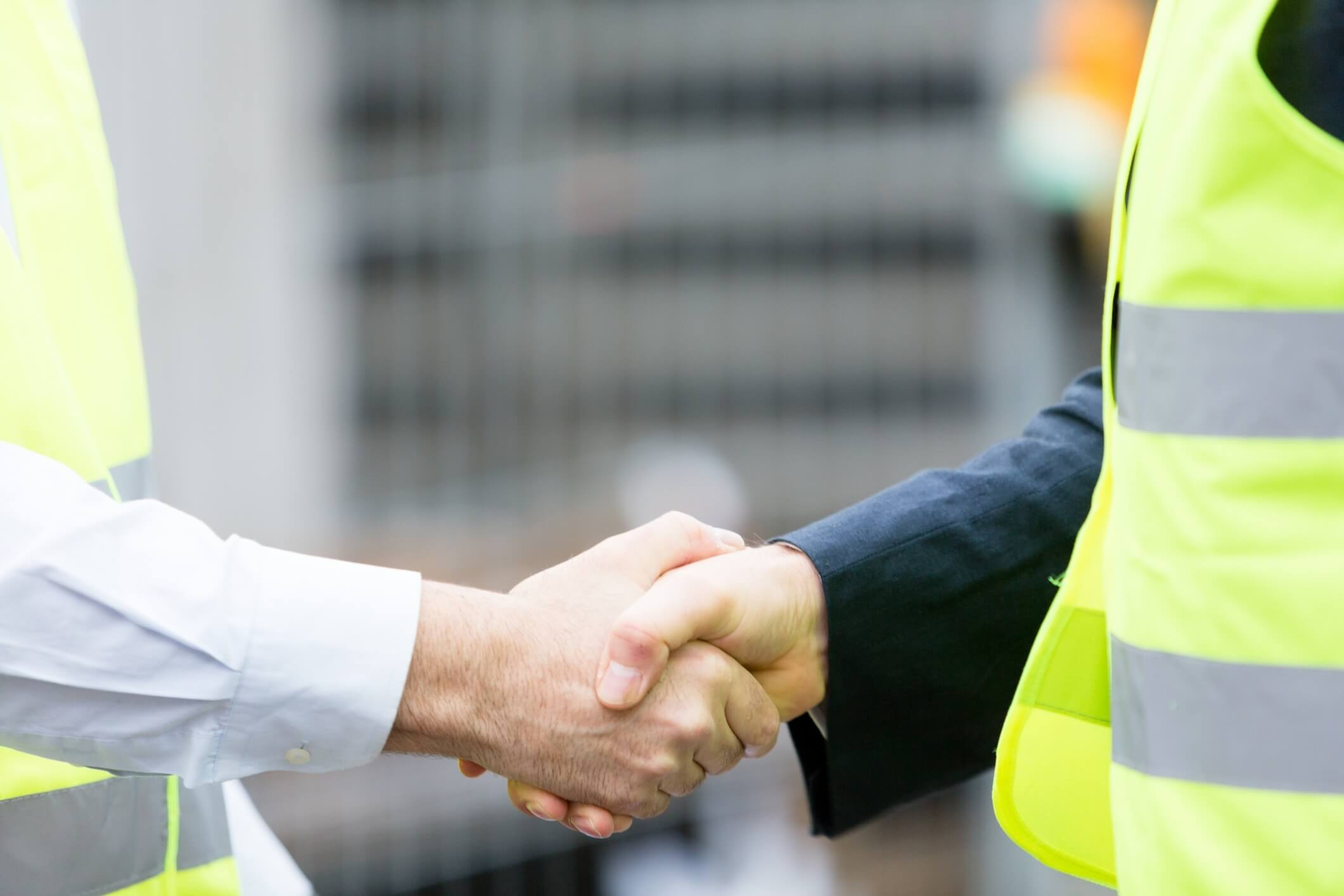 The Largest Connected Community
Through a constant focus in the construction industry and years of experience in the sector, the Tradex community has grown to over 170,000 organisations.
This allows any new or existing trading partner using the platform to take advantage of their single connection to exchange documents with any other connected company. This enables faster roll outs to a community that is already engaged and experiencing the benefits of being connected electronically.
We also recognise that supplier adoption is critical to the success of an e-Invoicing solution. As a result we have a dedicated community management team to contact suppliers, help them engage with the platform and provide support to them on an ongoing basis.
Tried and Trusted
See how our Trade solutions are helping organisations to remove friction from transactions and more effectively manage supply chain relationships and performance.
Tradex and the e-invoicing platform have allowed us to really streamline our AP processes. It has allowed us to get visibility and control on everything that is coming into our business from an invoicing point of view and reduce the risks of fraudulent practise and to make sure our supply chain get visibility of their status through the status module that Tradex provides.
Keith Aldrich, Supply Chain Director, Eurovia
e-Invoicing is faster, easier, more precise and saves both Balfour Beatty and our suppliers administrative hassle [by] standardising the format invoices are received in, meaning that they can be processed more quickly and with fewer errors and delays, rendering redundant the time and costs associated with other ways of invoicing, ensuring prompt payment of our invoices.
Leo Quinn, CEO, Balfour Beatty
Explore Our Other Trade Solutions
Transform supply chain relationships, reduce operating costs and remove friction from transaction exchange with the construction world's largest connected supply chain network.
Supplier Management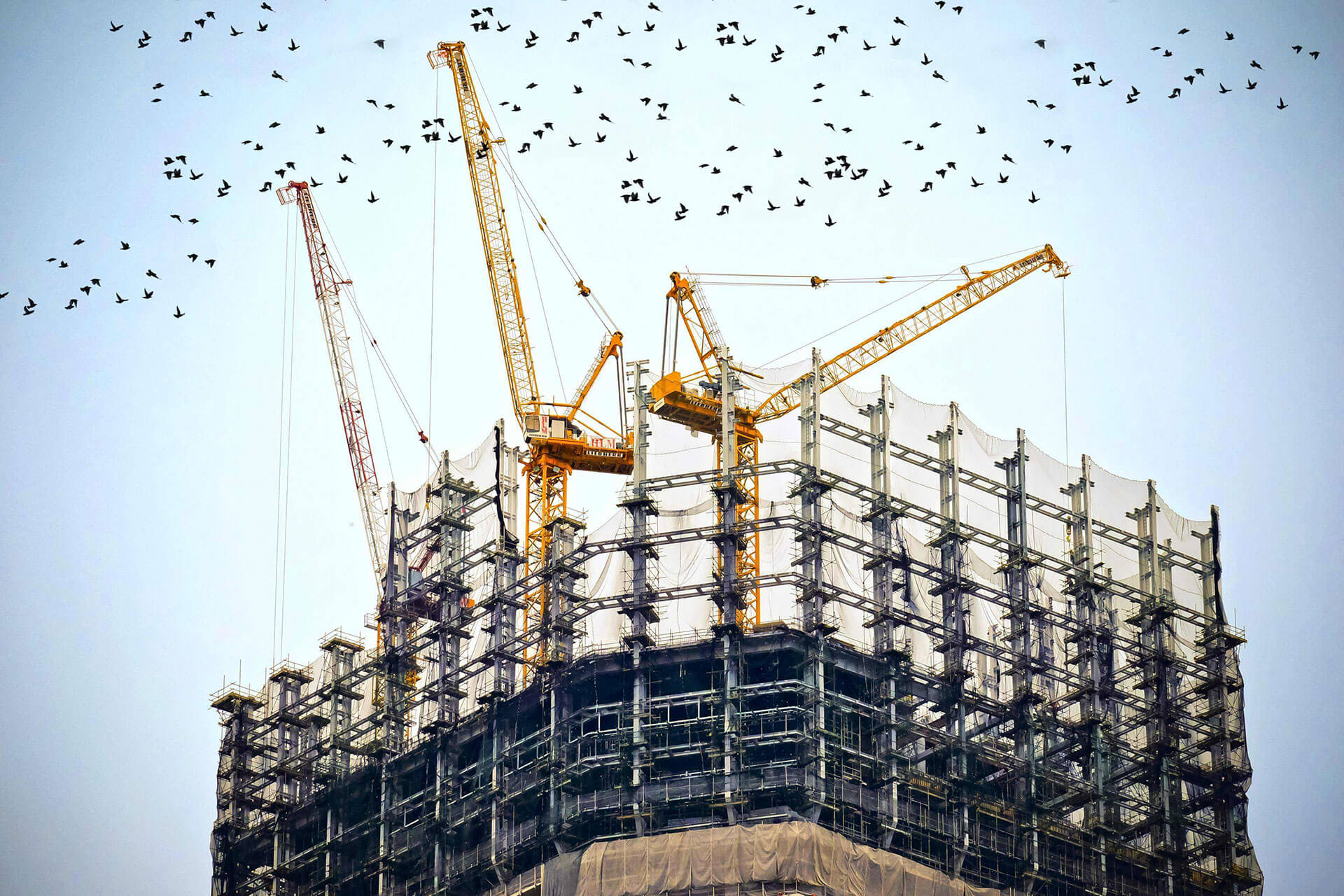 Streamline the on-boarding, accreditation and rating of vendor performance with a cloud-based community platform that minimises risk, ensures compliance, and strengthens supplier relationships.
Tendering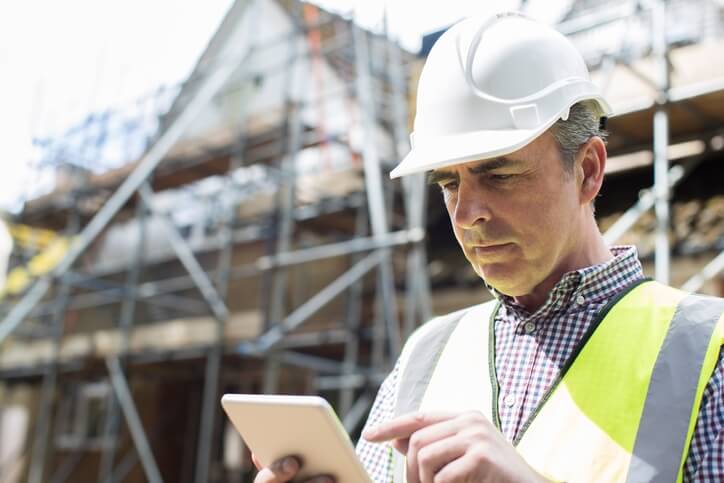 Reduce the operational time and cost of handling subcontractor pricing. Transform the efficiency of your estimating process.