Effortlessly manage cost and forecasts to produce NEC compliant applications for payment. Find Out More
Generate Applications For Payment With Ease
Whether undertaking a lump sum, target cost or term maintenance contract.
The platform enables measures to be created against a bill of quantities or an activity schedule and can be calculated either by quantity, percentage or value.
The entry of a measure can be used to automatically generate internal valuations and subcontract liabilities, however, independent adjustments can be made to all three as required.
The calculation of internal valuations, external valuations and subcontractor liabilities can therefore be done through a single input, significantly reducing the time traditionally associated with QS month-end procedures and reconciliations.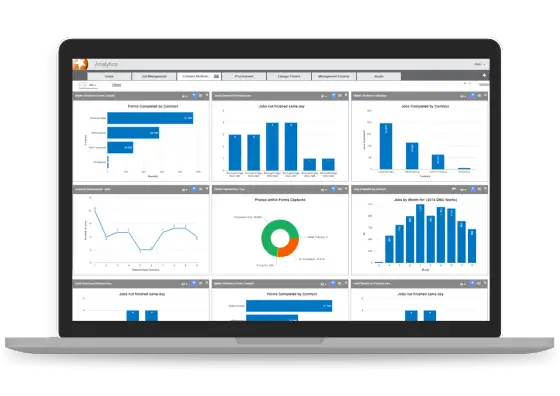 Maximise Project Profitability
Re-measured quantities can be incorporated in valuations and used to forecast final quantities, values and costs.
A flexible reporting system allows applications to be produced in an array of formats to suit specific client and contractor requirements.
Through integration with Project Planning software, the system enables the estimate to populate the project plan, allowing the estimated production for each period (milestone, accounts period, valuation) to be analysed.
By comparing this information with actual costs and actual measured progress, it is possible to calculate the Cost Performance Indicator and the Schedule Performance Indicator respectively. Each of these is fundamental in Earned Value Management techniques enabling the forecast of 'best case' and 'worst case' final project costs.
Labour
Integration with time & attendance and capture of labour/staff timesheets.
Plant
Requisitions, Orders, On-Hire, Off-Hire, Plant Timesheets, Breakdowns/Swaps/Losses.
Material
Requisitions, Orders, Deliveries and Invoices.
Subcontract
Package creation, Comparisons, Orders, Measures, Taxation, Discounts, Retentions and Liabilities.
Tried and Trusted
See how our Project Accounting solution has helped organisations to minimise commercial risk and maximise project profitability.
We've doubled in size since we implemented Causeway's solution, and it has demonstrated that it is able to cope with dramatic growth in the business. After reviewing alternatives, we realised very early in the process that Causeway was going to be a great fit and that we were going to implement the whole solution, from cradle to grave.
Joe Incutti, Finance Director Kier Highways
Generic construction industry software products are accounting-led and not focused on the commercial and operational requirements of a contracting business, which is where R&W's profits are won or lost. The Causeway solution is proven within our sector, and perhaps more importantly, their people are highways industry professionals - which was evident in their detailed understanding of our needs and challenges.
IT Manager R&W
Explore Causeway Project Accounting
Discover a full commercial and cost management solution to increase your project profitability.
Manage Budget

Minimise commercial risk with the real time management of budget, costs, change and value.
Manage Value

Easily manage and control all Labour, Plant, Material and Subcontract contract costs in real-time.