The 7th and 8th of November 2018 saw Causeway exhibit at Highways UK 2018. Held at the NEC Birmingham, the event brings together a wide range of people and organisations involved in the planning, designing, building, operating and future-proofing of the UK's road network.
As well as providing an opportunity to network and speak to valued customers, the event attracts the best minds in the industry, enabling organisations to share ideas with those at the forefront of UK road infrastructure development. With this in mind, we have summarised what we feel are some of the key takeaways from the two days.
Toward A Smarter, Greener, More Integrated Network
Addressing a full house in the Jacobs main theatre, Chair of the National Infrastructure Commission, Sir John Armitt, kicked off the first day's proceedings with a brief yet thought-provoking exploration of the critical role roads are playing in driving the UK forward. This proved to be an especially apt introduction to the first series of talks, which would reveal the latest thinking on a number of high-level strategic issues related to motorways and major A roads.
Among the panel of industry experts taking to the stage were Jim O'Sullivan, Chief Executive of Highways England, Anthony Smith, Chief Executive of Transport Focus, and ORR Chair, Stephen Glaister.
As Executive Director for Strategy and Planning, Highways England's Elliott Shaw was also part of this panel, focussing on the future of road strategy. Among other things, Elliott outlined the importance of embracing technology in what can be seen as an era of road revolution. While the Strategic Roads Network (SRN) has been developing organically in line with both customers' and the economy's needs, Highways England are now taking a longer term view of how the SRN can and should evolve to meet the predicted needs of customers.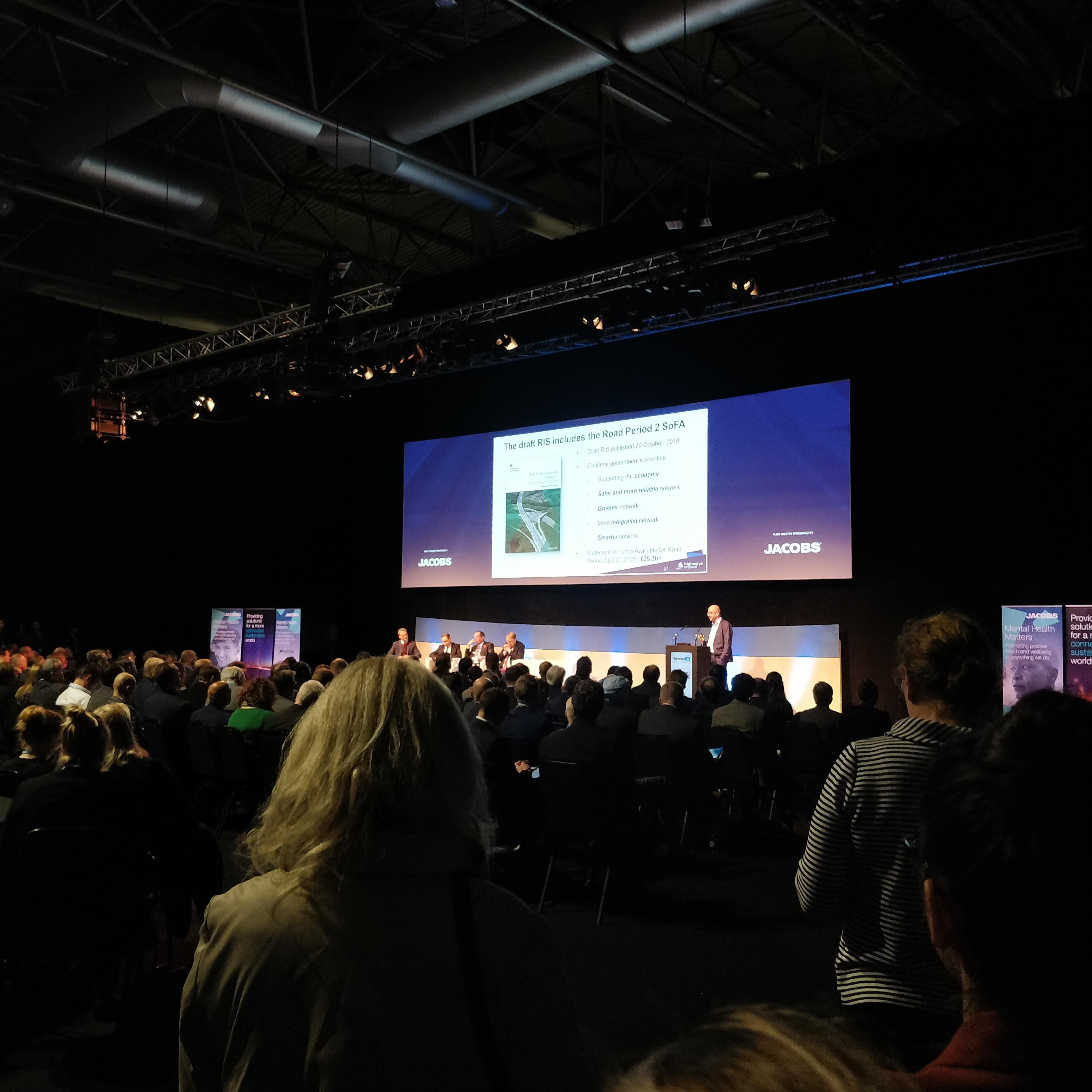 At a time when technological advancements could present drastic and fundamental changes to the UK's transport network, infrastructure and the concept of mobility as a whole, it has never been more important to look to the future and ask the right questions, no matter how daunting.
For instance, how will the SRN be impacted by the forecasted increase in demand? Is our infrastructure resilient enough to support this demand? How open will society be to new technology, and to what extent will any reticence impede progress? These are important questions. They are amongst the many that will be explored in detail within the Second Road Investment Strategy (RIS 2), which is to be published in autumn 2019.
While we are still some time away from autumn 2019, Elliott Shaw's talk provided some insight into the government's ambitions for the future:
A safe and more reliable network seeing users experience consistent, high quality road surfaces and reliable journeys

A greener network that minimises the air, light, noise, and visual impacts of the SRN and works in harmony with natural and historic environments

A smarter network that is built on new vehicle and infrastructure technologies and will maximise the efficient use of road space

A more integrated network that removes friction at points where it joins other networks
More Than Just Transport
Concluding the first panel discussion, Jesse Norman MP, Roads Minister for Department of Transport continued, delivering a ministerial address that highlighted the evolving role of highways and roads as more than economic enablers:
"Transport networks must be seen as more than a way of getting from A to B; they should be seen as the green arteries of technology that enable businesses and communities to thrive." Jesse Norman MP, Roads Minister, Dept. for Transport
Jesse called for attendees to consider just how important transport, infrastructure and road networks truly are at every level, SRN or otherwise, parish to city. It's about urbanisation, quality of life, job prospects, safety, enhancing the experience of travel, Jesse continued. He believes that the recent budget should be seen as an indicator of what's to come and where government priorities lie. However, as promising as this is, Jesse has no illusions as to the scope of the challenge we collectively face:
"There is no point in having new cycle lanes [or introducing new smart technologies] if they're not included as part of an interconnected infrastructure. To realise our ambitions, the biggest challenge we must address is shifting our mindset so that we see transport networks as the green arteries of technology that enable businesses and community to thrive. We need to create a new ecology of the road; one that is in harmony with the places surrounding it." Jesse Norman MP, Roads Minister, Dept. for Transport
This sentiment was carried forward throughout the course of the many remaining talks of the day, from discussions around digital roads and the use of BIM to prepare for connected and self-driving vehicles, to Ordnance Survey's presentation on movement as a social and economic enabler.
Rethinking Infrastructure Planning and Delivery for Local Authority Roads
Building from the momentum of the first day, Cllr Martin Tett took to the main stage to deliver an opening address that called for a rethink of how infrastructure planning and delivery is conducted at a local level. He began with an eye-opening snapshot of the national condition of the road network, revealing that while the 'proportion of the network that needs improvement' has decreased year-on-year, the percentage of local roads regarded as poor has increased from 13% in 2015/16 to 18% in 2018/19. These figures are a clear indication that more needs to be done to future-proof local authority roads, and according to the recent NHT survey, as a nation we have been underperforming in four areas:
Condition of roads surfaces

Speed of repair

Quality of repair

Managing potholes/damaged roads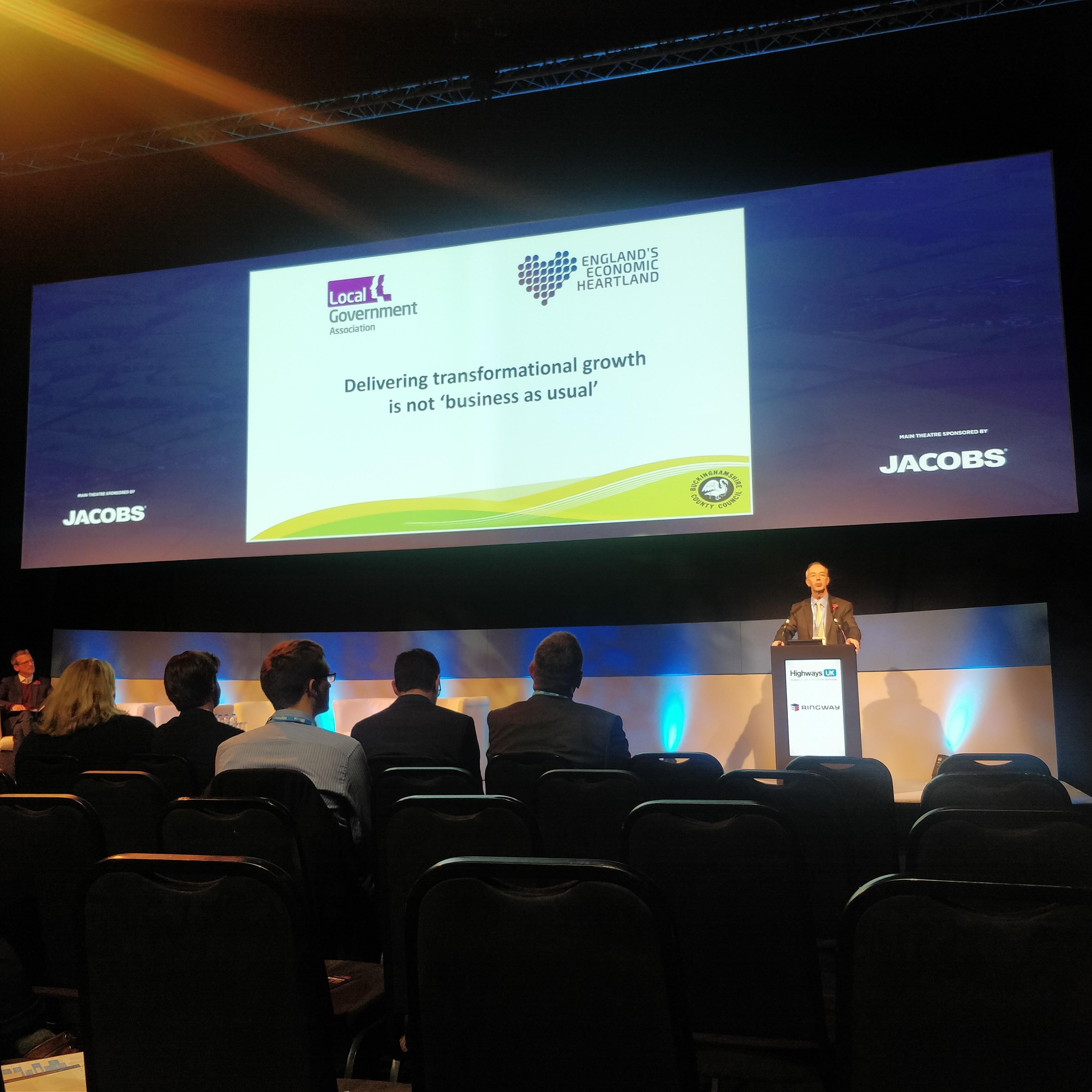 Martin then touched on a number of additional challenges and opportunities that need to be considered in order to make the necessary improvements to local authority roads. In doing so, he touched on the Oxford-Milton Keynes-Cambridge arc. Reiterating that it should be a national priority given the region's potential could unlock £1.1m worth of new jobs and boost the economy by £163m. This is supported by the fact that a lack of housing and connectivity is putting economic growth at risk.
To close his address and set the scene for the following panel discussion, Martin concluded with a call for a co-ordinated approach to infrastructure planning and delivery. "We should be thinking beyond betterment," he said, calling for us to think about the implications for urban and rural areas and on both the natural and built environment. Ultimately, this means co-ordinated investment in digital infrastructure, utilities and water resources.
Delivering transformational growth is not business as usual." Cllr Martin Tett - Leader of Buckinghamshire County Council; Chair of the LGA Environment, Economy, Housing and Transport Board
Stronger Together
With near countless talks, panel discussions and pitches taking place over the course of the two days, the breadth and depth of the research and ideas covered in Highways UK is difficult to do justice. However, whether in the Tarmac Materials and Assets Dome (representing the latest thinking in materials, asset management and maintenance) or the Meridian CAV showcase (exploring smart infrastructure and autonomous vehicles), one thing was clear from the discussions: the future truly looks promising, but realising our ambitions will require each and every one of us to have the courage to embrace new technology, innovation and collaboration in equal measure. Perhaps the final talk of the day summarised it best, if we're going to take our highways, road networks, infrastructure and economy to the next level, we're going to have to do it together.