NEC contracts have revolutionised the way projects are executed, offering a practical approach that goes beyond legalities to provide effective management tools. They have been used on a number of major projects across the world.
In this detailed blog, we explain "what is an NEC contract", uncover the advantages and disadvantages of NEC contracts, examine the key changes between NEC3 and NEC4, and shed light on how the different types of NEC contracts can be effectively managed for successful project outcomes.
NEC contracts explained: a guide on NEC4 and other types of NEC contracts.
What are NEC contracts?
New Engineering Contracts (NEC) is a comprehensive collection of construction and civil engineering contracts that originated in the UK in 1993. Notable early adopters of these contracts included prominent entities such as the British Airports Authority, National Power, Scottish Hydroelectric, and the South African public electricity utility Eskom.
This year, the organisation will commemorate three decades of NEC's existence. The driving force behind the development of these contracts was Martin Barnes, a distinguished UK Project Management Consultant. Barnes was specifically commissioned by the newly formed legal affairs panel of the Institution of Civil Engineers (ICE) to draft "a radical new contract which would stimulate and not frustrate the application of good project management."
This groundbreaking initiative aimed to stimulate innovation and streamline the project management process, departing from traditional norms. Its objective was to encourage the effective application of project management principles, eliminating any potential hindrances.
The impact of NEC contracts on contract standards and project management
What impact have the different types of NEC contracts had on the industry?
In a recent joint webinar Causeway held with Barry Trebes, NEC Tutor & Director at Trebes Consultancy Ltd, he highlights that NEC contracts go beyond being just legal documents and can be used as practical tools for project management, noting that 'NEC contracts provide greater certainty of outcome," and are "useful management tools."
NEC contracts focus on effective management processes, leading to more predictable project outcomes.
These contracts have undoubtedly had a significant impact on how the construction industry works.
By providing clear, straightforward language in contracts, and encouraging a collaborative and non-adversarial approach, they've played a big role in improving contract standards and project management in construction projects.
NEC contracts have been used on a number of major projects, including on London 2012 venues. The 6000-seat Velodrome was the first major venue to be completed at the Olympic Park was procured under an NEC3 Engineering and Construction Contract option C (target contract with activity schedule) - read all about the project here.
Advantages of NEC contracts explained
Having been used on Velodrome and other major projects, it is no surprise to see that NEC contracts are gaining widespread recognition and adoption in the industry. There are numerous advantages that the model offers:
Clarity and Simplicity: NEC contracts are known for their clear and straightforward language, minimising ambiguity, and potential disputes. The contracts are designed to be user-friendly, providing a common understanding of roles, responsibilities, and obligations for all project participants. This clarity reduces the likelihood of misunderstandings and improves overall project communication.
Flexibility and Adaptability: NEC contracts offer a high degree of flexibility, allowing customisation to suit the unique requirements of each project. They accommodate various procurement strategies, contract types, and industry practices, making them suitable for a wide range of construction projects. The adaptable nature of NEC contracts ensures that they can effectively address changing project circumstances and unforeseen challenges.
Collaboration and Cooperation: A distinctive feature of NEC contracts is the emphasis on collaboration and a non-adversarial approach. The contracts promote early involvement of all parties, encouraging cooperation and open communication throughout the project lifecycle. This collaborative environment fosters a proactive problem-solving mindset, leading to more efficient decision-making and improved project outcomes.
Risk Management: NEC contracts incorporate comprehensive risk management mechanisms, distributing risks fairly among the project stakeholders. The contracts provide a framework for identifying, assessing, and mitigating risks, ensuring a balanced allocation of responsibilities. This approach promotes a proactive risk management culture and reduces the likelihood of disputes arising from unforeseen events.
Performance Management: NEC contracts place a strong emphasis on performance management, with clear mechanisms for monitoring and incentivising performance. The contracts include provisions for performance measurement, regular reporting, and incentivisation based on achieving project objectives. This focus on performance encourages accountability, quality delivery, and continuous improvement throughout the project duration.
Disadvantages of NEC contracts explained
While the different types of NEC contracts offer numerous advantages, it is important to acknowledge that like any contractual framework, they also have some potential disadvantages.
For those unfamiliar what NEC contracts are, there may be a learning curve involved in understanding the specific terminology, processes, and procedures outlined in the contract. This can require additional time and effort to become acquainted with the nuances of NEC contracts.
NEC contracts can also be intricate and detailed, requiring a thorough understanding of their provisions. The complexity of these contracts may necessitate expert knowledge or legal advice to ensure proper interpretation and implementation. The contracts also demand large amounts of data that can that often see people becoming data managers rather than commercial managers as they grapple with multiple spreadsheets to identify the data needed.
These disadvantages, however, are often outweighed by the benefits they provide in terms of clarity, collaboration, flexibility, and effective project management.

Why are there different types of NEC contracts?
The existence of different types of NEC contracts stems from the recognition that no two construction projects are identical. Each project comes with its unique characteristics, challenges, and requirements.
Hence, the NEC suite offers various iterations to cater to these diverse scenarios.
The evolution of NEC contracts has been driven by a commitment to continuously improve project outcomes and enhance collaboration within the construction industry. Each iteration, from NEC3 to NEC4 and beyond, builds upon the lessons learned and feedback received, incorporating refinements and adjustments to better address industry needs.
By having multiple types of NEC contracts available, project stakeholders can select the most appropriate contract that aligns with their specific project scope, procurement strategy, and desired contractual arrangements. This flexibility ensures that projects of all sizes and complexities can benefit from the advantages that NEC contracts bring, including clarity, transparency, and a collaborative approach.
Ultimately, the variations in NEC contracts provide a framework that can be tailored to meet the unique demands of each construction project. Whether it's a large-scale infrastructure endeavour or a smaller-scale development, NEC contracts offer a standardised yet adaptable solution to streamline project management and foster successful outcomes.
When were NEC4 contracts released?
There is a detailed history of NEC contracts, which is now in it's fourth iteration.
The first NEC contract was introduced in 1993.
The model was then updated in 1995.
Following a decade of extensive use, the third iteration of the model came in 2005.
The latest iteration of the model – New Engineering Contract 4 (NEC4)– was published by the ICE in June 2017. The ICE described NEC4 as an "evolution, not a revolution", so if you've previously used NEC3, the latest version won't represent a huge learning curve. Still, there are several significant changes in NEC4, which it's important to be aware of.
So what are the main differences between NEC3 and NEC4?
NEC4 has been updated in various ways to reflect modern construction practices (including greater reliance on technology) and to accommodate requests from users. Whether you have no previous experience with NEC contracts, or have worked on projects with NEC3, it's helpful to understand some of the changes in the latest updates.
There are several areas where NEC4 contracts differ to earlier iterations, including:
Language: Gender-neutral language is used, and several new terms have been introduced. Certain wording has changed for clarity too (e.g. 'employer' is now 'client', 'partnering' has become 'collaboration').
Tech: Newer construction tech, such as BIM, is explicitly covered in the NEC4 contracts.
New forms of contract: A couple of new contract types have been introduced.
Disputes: A new dispute avoidance and negotiation period of four weeks have been introduced.
NEC4 explained: the terms you need to know
Although designed with simpler language compared to other contracts, and with the first changes since the NEC3's introduction in 2005, the NEC4 contains these terms that you must familiarise yourself with.
It is essential to get to grips with these terms to navigate the NEC4 contracts effectively.
Compensation Events: These are the only events that let you increase the prices or delay the contractual completion date. In other contracts, these would be called variations and extensions of time and loss and expense.
Contract Data: This is broken into two parts. If done incorrectly, it's very difficult to manage the contract: Completed by the client as part of the Invitation to Tender or Completed by the contractor as part of your tender.
Project Manager: Employed by the Client, this role is similar to the Architect/ Contract Administrator under other contracts.
Short Schedule of Costs: Vital to the assessment of Compensation Events. The short schedule of costs covers option A and B and is devised to capture more cost than NEC3. Several add-on percentages have been removed to eliminate unnecessary complications.
Scope: Essential to understanding the scope of work and describing the constraints in providing that work. This was called Works Information under the NEC3 contracts.
Early Warning Register: Helps create awareness about project-specific risks. This was called the Risk Register under the NEC3 contract.
Fee Percentages: There are several fee percentages that need to be tendered in respect of assessing cost, and a knowledge of their application is crucial when formalising an NEC4 contract.
Activity Schedule: Under Option A, this is a series of lump sums with payment only due if you complete the activity, such as milestone payments.
NEC4: a short guide
Are you trying to navigate your way through NEC contracts?
We've pulled together a short guide to help you learn what's new and what your options are, particularly within NEC4.
Download the NEC contracts guide here.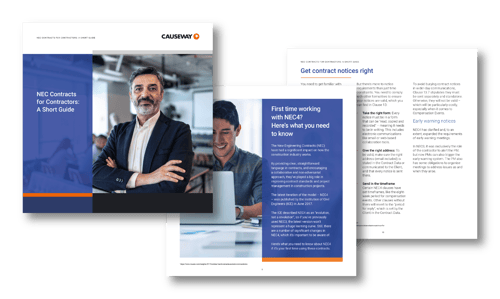 How can technology help you manage NEC4?
If you are working on a project that's underpinned by an NEC4 contract, you'll need to make significant efforts to manage how you monitor and forecast your project costs to comply with the contract and get paid.
Organisations using rigid or manual systems like spreadsheets may struggle to structure their project data so that it can be audited and processed during application for payment.
Causeway's Commercial Management solution removes manual data processes allowing you to consolidate and surface real-time data from multiple sources in a secure database which reflects your contract-specific structure.
With brand-new NEC features now available in the software, there are 4 ways in which using Causeway's Commercial Management can help empower contractors to:
Effortlessly produce NEC-compliant applications for payment to ensure there are no delays.

Forward forecast on project performance and earned value by integrating with your delivery programme.

Store and manage data in a way that is safe, secure and which meets NEC4 standards.

Interrogate your contract data in a single secure database in the event of any contract disput

es.
Watch the video below to see exactly how Causeway can support you with NEC4 contract management.
Unlock the full potential of NEC contracts
Overall, the use of technology can significantly improve the efficiency and effectiveness of NEC4 project management.
If your business is looking for support in this area, click here to learn more about how Causeway's Commercial Management solution can help support the delivery of NEC contracts.