The New Engineering Contracts (NEC) have had a significant impact on how the construction industry works.
By providing clear, straightforward language in contracts, and encouraging a collaborative and non-adversarial approach, they've played a big role in improving contract standards and project management in construction projects.
The latest iteration of the model – NEC4 – was published by the Institution of Civil Engineers (ICE) in June 2017.
The ICE described NEC4 as an "evolution, not a revolution", so if you've previously used NEC3, the latest version won't represent a huge learning curve. There are a number of significant changes in NEC4, which it's important to be aware of.
Here's what you need to know about NEC4 if it's your first time using these contracts.
What are the New Engineering Contracts (NEC)?
NEC contracts can be described as a suite of construction and civil engineering contracts that were first published in the UK in 1993.
Traditionally, construction contracts were seen as somewhat unclear, and this often led to litigation. The NEC contracts were intended to make the relationship between companies commissioning projects and contractors more collaborative, by making contracts clearer.
They're generally viewed as a successful innovation and have been used in several countries around the world on countless projects.
NEC4 is the latest iteration of this suite of contracts. It has been updated in various ways to reflect modern construction practices (including greater reliance on technology) and to accommodate requests from users.
Whether you have no previous experience with NEC contracts or have worked on projects with NEC3, it's helpful to understand some of the changes in the latest updates.
NEC4: what are the big changes?
There are several areas where NEC4 contracts differ from earlier iterations, including:
Language: Gender-neutral language is used, and several new terms have been introduced. Certain wording has changed for clarity too (e.g. 'employer' is now 'client', 'partnering' has become 'collaboration').
Tech: Newer construction tech, such as BIM, is explicitly covered in the NEC4 contracts.
New forms of contract: A couple of new contract types have been introduced.
Disputes: A new dispute avoidance and negotiation period of four weeks have been introduced.
NEC contracts for contractors: a short guide
Are you trying to navigate your way through New Engineering Contracts (NEC)?
We've pulled together a short guide to help you learn what's new and what your options are, particularly within NEC4.
Download the NEC contracts guide here.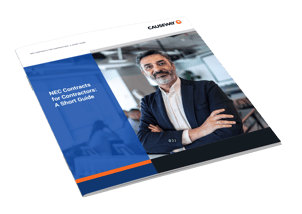 Unlock the full potential of NEC contracts
Overall, the use of technology can significantly improve the efficiency and effectiveness of NEC4 project management.
If your business is looking for support in this area, click here to learn more about how Causeway's Commercial Management solution can help support the delivery of NEC contracts.