Customer support and account management can sometimes be overlooked as a critical consideration in the construction software buying process. Often, you don't realise how much this matters until an issue crops up.
At this point, it's too late. You're facing a problem, but you don't know who to contact about it, let alone how long it will take to fix.
A happy and healthy relationship between a software provider and the user requires frequent, open communication, and not just when there is a problem. The product roadmap should be informed first and foremost by you, the user. You should expect one-on-one account management, and regular product updates which are easy to install.
So, what are the key areas of support to look out for?
1. A fast and confident fix to problems
The user experience is more than just how easy the software is to use. You should also be confident that your software provider can resolve any issues quickly, with assurance of limited impact on your business.
Technical issues can wreak havoc within your business if they are not dealt with quickly, so it's important that you have a direct line to customer support. This should be a real person who can deal with your query… NOT a robot. You should come away from this exchange feeling confident that your issue is being dealt with and armed with alternatives to achieve what you need in the meantime.
Choosing a software provider who fails to provide this level of support could mean you are risking throwing away the positive impact of investing in the software in the first place.
2. Support who knows you inside out
If you're facing a problem with a piece of software, it's rarely just the issue itself - it can have real knock-on implications throughout your business. That's why you need access to a support team who have real world experience in the construction industry. This ensures you don't waste valuable time providing context for why a seemingly small issue is affecting your business so much.
In the event of an issue, you want to speak to someone who knows what you're talking about, who understands the gravity of the situation, and acts accordingly.
3. A collaborative approach
Collaboration is crucial to customer support. This should involve your software provider working closely with your team through on-boarding, on-going account management, and problem resolution. Their goal should be to ensure you're getting the most out of your investment as possible.
You should also ask your software provider about their approach to teamwork within their business. If one of the Estimators on your team calls Support with an issue, is there any additional options in place if they are unable to resolve the query? At what stage do these different people get involved?
When you do need to use support, ask yourself does it seem messy, and manic; like there is no real process in place? This is a red flag.
Teamwork and processes are the antidote to complexity. You should expect your service provider to offer a collaborative, holistic and consistently uniform customer experience when you contact them for support.
4. Values your feedback
The relationship between you and the software provider should be a two-way street. Communication shouldn't only happen when there is a problem. Your honest feedback on what's working for you and where there are gaps in the software is gold dust to your software provider and should be treated as such by them.
There should be a clear and easy way for you to regularly provide feedback (if you choose to). Of course, the product team can't build every single product request, but they should ensure that their users are informed of what is coming out and when. Ideally, they should be holding discussions with customers on a regular basis.
What support does Causeway provide?
We're extremely proud of our exceptionally high standard of customer support.
A pillar of this support is a dedicated Account Manager for each customer. These are experts, with years of industry experience and are available by phone or email no matter how big or small the query.
Causeway Support is also available with access to our 24/7 web portal along with a knowledge base full of helpful information. You can also log, update any support requests in an interactive and intuitive environment.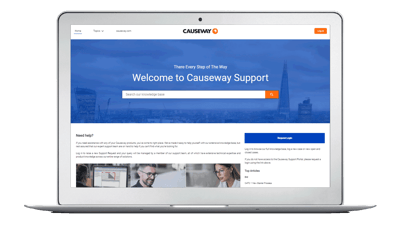 Inside the Causeway Estimating platform, you will find a communications panel that acts as a two-way feedback portal. It has quick access links to training, support, and feature suggestion forms. We're constantly investing in our products, so you'll also be able to download the latest version of Causeway Estimating at the link of a button from this panel.
Causeway has served the construction industry for over 20 years, developing products that solve the problems and meet the exacting needs of the industry. We will continue this exciting collaborative journey, ensuring you're getting the best possible technology, and the best possible customer service.
---
Causeway Estimating helps contractors and subcontractors manage the bidding and tendering process. If you'd like to see how Causeway Estimating could make an instant difference to your business, book your 30-minute demo here.