Estimator's Guide to Selecting Solutions
Take Action with our Estimator's Guide
There are many solution providers to choose from, but not all are created equal. Download our guide to help you make smart decisions about the software you need.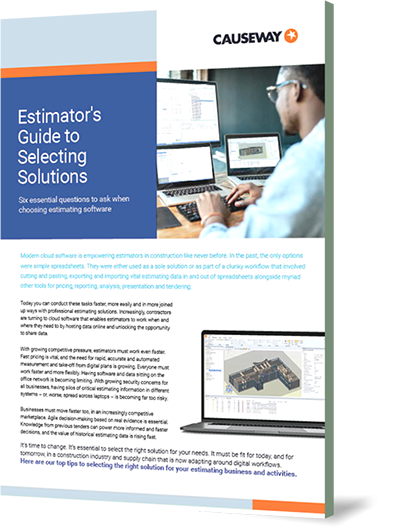 Make smarter decisions about the estimating software you need.
Many estimators depend on spreadsheets and can be reluctant to change—but the challenges of working only in Excel or with a jumble of disparate tools are significant. Not only is your data insecure, but it can also lead to silos of estimating data in different places, which just add to the estimator's workload.
Today the opportunity to do things much easier, faster, intuitively and flexibly is being opened up by cloud-based estimating tools. These bring new ways to securely share data and to aggregate, analyse and use historical data. The time to change has come—but when you decide to make a change, you must choose wisely.