Collaborative working should be at the core of every project. That is why NEC contracts and the Integrated Project Team (IPT) ethos go hand in hand.
The NEC is a collaborative contract suite that encourages the contracted parties to act, "in a spirit of mutual trust and co-operation." It is also the government's contract of choice on large infrastructure projects.
The NEC says that successful collaboration requires:
a positive change of mindset and behaviour
the creation of an enjoyable working environment
engagement of all parties including subcontractors, suppliers and related parties
moving away from 'business as usual' procedures
But putting it into practice without the right framework, or real commitment from all parties, makes it likely to fail. This is the reason behind IPTs growing popularity and success.
In our latest webinar, Rob Christie of joint venture EKFB said, "the IPT philosophy works. I think what we have achieved here [with our client]... is that there is one management team. I promise you that it works."
The principles of an Integrated Project Team (IPT) are simple
Clients, contractors, and the supply chain work together as a team to:
enhance the project's value
reduce total costs
inspire innovation
boost quality
The goal is to deliver the project more effectively than the current fragmented approach, where relationships are more adversarial than mutual.
What is an IPT?
An Integrated Project Team – known as an IPT – is formed of the client's project team and a supply team of consultants, constructors, and specialist suppliers. It unites the design and construction activities, with maintenance considered too, whether or not the IPT is responsible for the ongoing maintenance of the asset.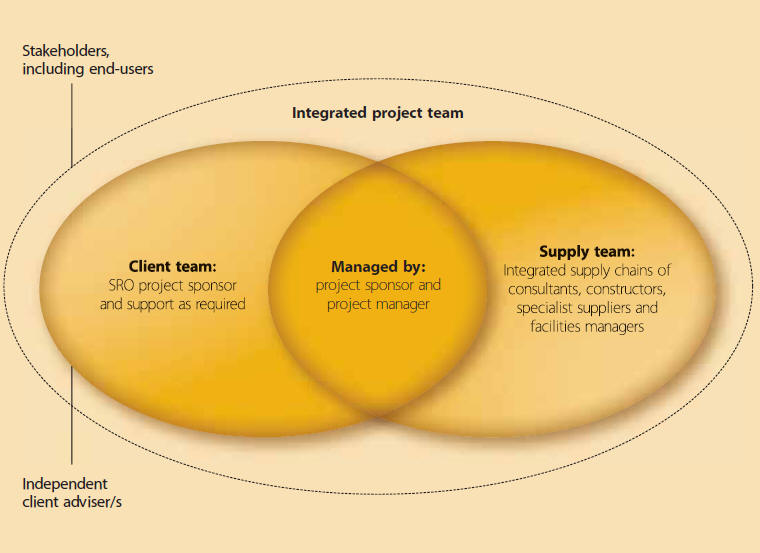 [Ref. Design Buildings Wiki – Integrated Project Team]
By removing the barriers between design and implementation and valuing everyone's input, you enable quality decisions based on the lifetime implications on the asset.
The Strategic Forum released an integration toolkit that describes how you can achieve better value with the collaborative working of an IPT. Teams and processes are integrated around the project to give everyone involved a voice.
An IPT is:
a single team focused on a common set of goals and objectives delivering benefit for all concerned
a team so seamless, that it appears to operate as if it were a company in its own right
a team, with no apparent boundaries, in which all the members have the same opportunity to contribute and all the skills and capabilities on offer can be utilised to maximum effect
[Ref. Strategic Forum: Integrated Project Team]
How technology underpins a IPT approach
In 2010, Justice Edwards-Stuart called the NEC a "triumph of form over substance."
For all of its benefits, NEC is a highly 'paperwork' focused system without the right technology. It means you need to consider whether you have the right resources in place before you start on the project. Otherwise, you might end up scrambling around for ad hoc solutions that create pain later, which we have seen on large and complex projects.
In our webinar, Rob Christie said:
"Align your systems from the start – that's where I see massive gains in the future.
"Look at your business and look at where manual intervention takes place and where paper exists. Are we going to get a paperless office? Probably not. But where we can get a minimal paper office, that's where we need to reach.
"As an industry, we are transaction heavy. There are lots of transactions and their management is key. What we found when we started our journey is everyone wants systems. And integrating many systems, while it looks good on a PowerPoint slide, in reality it often does not work."
Finding the right technology partner to join your IPT is the best way to stop this. They can guide you through the process and make life much easier for you. It helps bring the NEC's transparency and greater compliance to life, enabling you to deliver a successful project.
The importance of 'Teamworking' and 'Partnering'
The Office of Government Commerce (OGC) produced guidance on creating an IPT that speaks about teamworking and partnering. In the document, OGC breakdown what these two terms mean to the IPT:
How 'Teamworking' works in an IPT
Mutual trust and openness are integral to great teamwork. To succeed, an IPT needs to deal with problems and share risks evenly. That is easy to say and far more difficult to do, especially when the members have not worked like this before.
Positive teamwork should be the basis for all working relationships, but conflicting interests often lead to adversarial behaviour. People and businesses might look to protect their own interests as the project progresses, as is human to do. In reality, those interests should be aligned from the start so that everyone pushes towards the same goal.
The internal relationship between the client's in-house project team should be the same as that shared with the client's team members and the supply team. It does not replace management structures and procedures. It's a pragmatic approach to delivering projects on time and on budget that promotes a "we are in this together" attitude.
Leadership in the client, project management and the supply team should be visibly committed to collaboration and partnering. This championing of the ethos inspires the teams, aligns them to shared goals and gets the buy-in.
Before true teamworking can happen, team building should be top of the agenda. One does not come without the other. Without it, teamworking cannot develop to its full potential and everyone must be open with their expectations. Once aligned and an understanding of a mutual benefit has developed, teamworking jumps up a level to partnering.
How 'Partnering' works in an IPT
When the IPT works together to perform better with agreed and shared goals. They set out ways to resolve disputes and commit to a culture of improvement, progress measurement and gain shares. With this shared dedication to finishing the project on time and on budget, there is a powerful push for everyone to win – including the end-user.
There are two types of partnerships:
Project Partnering is when the integrated supply team and the client work together on one project only, usually after a competitive procurement phase. It has been shown that project partnering can bring savings of 2-10% in construction costs.


Strategic Partnering is when an integrated supply team and the client work together over several projects to promote continuous improvement, and this is when the more considerable benefits are felt. The fragmented construction industry has struggled with the ad hoc approach as each one usually brings a new group of people with their own ideas ways of doing things.
Strategic partnering can deliver savings on construction costs of up to 30%,
The six core principles of partnering
early involvement of key members of the project team
selection by value, not the lowest price
common processes, such as shared IT
a commitment to the measurement of performance as the basis for continuous improvement
long-term relationships in the supply chains
modern commercial arrangements based on target cost or target price with shared pain/gain incentivisation
[Ref. OGC: The integrated project team – teamworking and partnering]
Why does the partnering approach work?
A giant hurdle to getting projects over the line on time and on budget is the siloed approach to projects. In most cases, each project has a new mix of companies and teams that have never worked together. It is this fragmentation that makes it tough to drive continuous improvement over long periods.
Strategic partnerships, as collaborative relationships, can promote better value for money that encourages clients and suppliers to work together as an IPT to:
improve design, including operational efficiency and health and safety performance
minimise the need for costly design changes
identify ways of driving out inefficiency in the construction process
repeat good practice learned on earlier projects
minimise the risk of expensive disputes
identify incentives to deliver tangible improvements in the quality of the construction and reductions in time and whole-life cost
integrate the whole supply chain
[Ref. OGC: The integrated project team – teamworking and partnering]
EKFB are a shining example of a successful IPT
Rob Christie of EKFB JV told our webinar guests that, "It is ensuring that from the off, you have the right mindset and the right people."
At the very start of the project, we have worked with our client as "one integrated project team that delivers the project together.
"It removes the contractual piece. We are very much aligned on this being a win win scenario. So, together, all decision making, and reporting happen collaboratively. While contracts say that collaborative working is key, it is practicing what you preach. I have to say that at EKFB, we really are doing that."
If you need a technology partner to help you successfully deliver NEC contracts, Causeway has the experience, knowledge and technology. Learn more here.