The 7th of March saw Causeway both exhibit and present at The Chartered Institute of Highways and Transportation's Annual Conference, held at the Victoria Park Plaza in London. The conference saw highways and transportation professionals from across the UK come together to discuss productivity in the sector.
The CIHT president, Matthew Lugg OBE, opened the Annual Conference by stressing the importance of improving productivity within the transport sector. He emphasised the need for the industry to "keep up with the demands of the 21st century", which is even more pertinent with Brexit on the horizon.
Mel Clarke, Director of Customer Service at Highways England, was first to take the stage. Mel discussed how Highways England are making improvements in their customer service in order to make their customers more productive. She outlined: "We understand that our roads our vital: they connect people, businesses and communities […]. We have to support economic growth, optimize journey times and increase reliability."
Following on from Highways England, Ginny Clarke CBE, Chair of the CIHT Learned Society Board interviewed Jesse Norman, Minister of State for Transport. As our national productivity continues to lag behind other countries, Jesse Norman outlined that he sees the transport sector being at the centre of improving productivity in the UK. He continued:
"We're spending an enormous amount of time and money on infrastructure of different kinds in order to improve productivity, assist people, and to improve on the way in which transport itself is delivered. We've been doing a lot of thinking around how we can improve supply chains, and ensure you get the most 'bang for your buck'".
The conversation then inevitably moved to Brexit and the impact this will have on both the UK's productivity and road networks. Jesse highlighted that he feels we have seen many positive results, in addition to the negative. He argued that we have seen improved resilience from the South East, we've engaged with other countries to provide transport networks and have "frankly shown that the civil service can rise to the occasion when they have to, which is very inspiring and a rather attractive thing".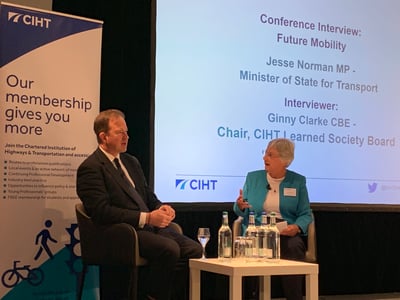 The morning continued with a panel session on technology, which explored automation, innovation and disruption in the context of procuring and delivering services. Mark Borland, Head of Procurement Delivery at Highways England, saw the panel session as an opportunity to discuss how he believes we're being held back as an industry by a lack of innovation.
Building from this, Mark outlined three key projects Highways England are working on to improve productivity:
Project 13: Highways England are working in conjunction with the Institute of Civil Engineers to analyse contract models. Part of the project aims to redefine the role of Tier 1 Contractors as integrators in order to improve productivity.
Embracing Digital Economy: Our sector doesn't have a quick uptake in automation and technology. To encourage innovation, Highways England have launched a £20m competition, to invest in projects which change the way roads are designed, managed and used.
Talent Diversity: As an industry, we're not attracting enough diversity. This project aims to look at what we need to do culturally in order to diversify our workforce, to ensure there are always new ideas and challenges.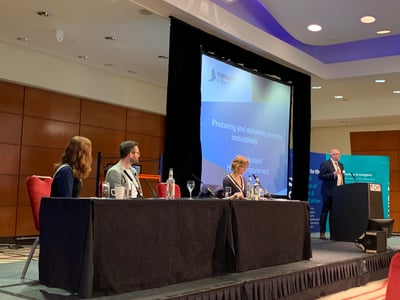 Fred Jones, Director for Uber UK, was next up in the panel session. Fred moved the discussion on to review Uber's vision for urban mobility, which includes shared modes of transport, electrification and multi-modal transport.
Wrapping up the panel session was Alexandra Knight, a Technical Director with Amey Strategic Consulting. Alexandra discussed the smart infrastructure in place on the Forth Road Bridge in Scotland, which includes both sensor technology and cloud computing capabilities.
Alexandra outlined the importance of decision making with smart assets:
"We need data for better decision making, so we're able to have better insight and have a positive impact on performance, experience and risk […]. We need to make sure that we're getting the right information at the right time in the right format".
The smart infrastructure in place on the Forth Road Bridge allows the team at Amey to continually monitor the bridge's maintenance requirements and its response to weather, temperature, car weight, among many other factors. Not only are the team able to monitor the performance of the bridge in real-time, they are now also able to begin predicting how it will respond in the future. This type of smart asset is facilitating greater productivity by enabling Amey to put in place measures that are based on the bridge's historical performance. In doing so, Amey can significantly reduce the frequency with which the bridge must be closed due to unforeseen extremes in weather or emergency repairs.
As Alexandra's presentation drew to a close, she highlighted the importance of rolling out similar technology across the UK's infrastructure to allow for better planning and improvements in productivity.
After the panel session, the innovation showcase began, with Causeway's James Atkinson taking to the stage to discuss how productivity gains can be harnessed through technology. Learn more about how Eurovia are digitising their highways here. You can also view a full summary of James' presentation here.
As the morning drew to a close, delegates headed to lunch to continue their discussions and network. Once we re-joined for the afternoon, discussion shifted to a panel session on the international, national and regional responses to productivity. Martin Tugwell, Programme Director for England's Economic Heartland, facilitated the session with Samantha Gain, President of The Institute of Public Works Engineering in Australasia, Fiona Brown, Head of Strategic Transport Planning at Transport Scotland, and Peter Molyneux, Major Roads Director for Transport for the North.
Each of the panellists offered an overview of their approach to improving productivity. Samantha Gain discussed future plans for New Zealand's infrastructure as they begin to move into the fourth industrial revolution, as infrastructure becomes increasingly connected. The New Zealand Transport Authority (NZTA) have begun a project to raise the national infrastructure data standards to facilitate greater productivity and ensure more informed decision making.
As the day drew to a close, it became apparent that improving our productivity is not only important for the highways and transportation sector, but critical for the productivity of the UK as a whole. However, while it's clear that promising work is being completed throughout the sector to improve productivity through greater use of technology, data and innovation; more still needs to be done to ensure that we can meet the demands of the 21st century, as well as those that will arise post-Brexit.