Leading service providers met in London for the annual Thought Leader's Forum at which key issues relating to the world of e-Invoicing and electronic data exchange are debated.
The debates this year included a review of the EU e-Invoicing / e-Procurement activities; what is "Model Interoperability"; whether providing e-Invoicing alone is enough and finally whether there are any good standards to help deliver increased user benefits.
With representatives from major international service providers (Hubs), these debates are always well informed. Attendees are members of the Hub Alliance which is an organisation centred on a practical and mutual commitment to interoperability between all members. As a result, there is a shared interest to support the delivery of an open market for companies connected to any of the services represented. Customers need to be able to exchange trading documents, such as orders and invoices, regardless of the Hub to which each is connected.
The first debate, on the European e-Invoicing project, acknowledged that the EU Directive was rightly seeking to support and simplify open exchange of e-Invoices between trading companies within and across borders. There was seen to be a need for the EU to provide further certainty around the enforcement of tax compliance where e-Invoices are used, which is being sought. However, it was also accepted that the Hub community bore much responsibility for how we portray the Directive. We should avoid over-complication if we are to support wider adoption. The Hub Alliance members agreed to look at how they could improve communication with a focus on strengthening market confidence in adopting e-Invoicing.
The second debate looked at the term "Model Interoperability" and found this was harder to quantify in practical terms than it was to support in principle. It was agreed that this subject had been greatly enhanced through the provision of a "Model Interoperability Agreement" by the European E-Invoicing Service Providers Association (EESPA), which was built with direct input from several members of the Hub Alliance. To strengthen the drive for greater interoperability, it was agreed that the Hubs needed to collectively engage with customers. The Hub Alliance was built on a multilateral commitment to interoperate. We will continue to promote these multilateral principles and to support the many bilateral connections that are then established in building a platform for open exchange. The market needs to hear this message and evidence that service providers are delivering on the promise of open exchange.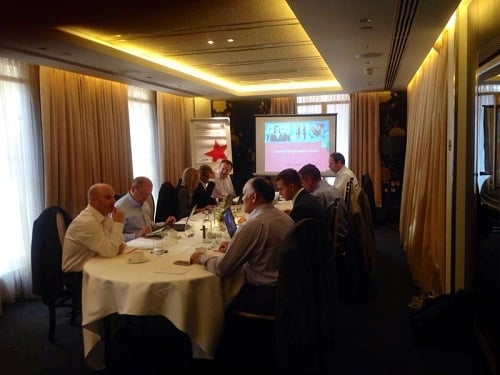 The third debate picked up the question as to whether e-Invoicing alone was enough. The answer was a resounding "no". Firstly, the exchange of other document types, such as purchase orders, was essential. It was noted that this was increasingly common between Hub Alliance members, some of whom supported over 10 different document types. Our customers, and the wider market, is often talking about e-Business, e-Procurement or Purchase to Pay. Secondly the debate picked up on opportunities to support Supply Chain Finance, especially where two Hubs may be involved in connecting the buyer and supplier. And lastly there was the open-ended opportunity to exchange status information about transactions between buyers and suppliers where multiple Hubs are involved. The Hub Alliance should re-confirm and underline its approach to supporting the full scope of electronic data exchange and maximising customer value as the core principal to drive market growth.
In debate four, just as the coffee and biscuits were running out, we reflected on the exciting subject of standards. It would be fair to say that the number of standards has increased as a similar speed to bacteria. As a result, "which" standard is complicated, often divisive. Standards have become something of a dirty word. However, we all use them every day – whether to structure files within an EDIFACT, UBL, BASDA or CSV file, or to define the electronic envelope or communication protocol. Again, the agreement around the table was to keep things simple. The Hub Alliance had, for itself, defined a default set of standards to be used. However, when each connection is built, members are free to choose the approach they prefer – provided this is not allowed to delay delivering a working connection. The debate did accept the need for a semantic definition to be agreed in support of cross border trade in particular. At the same time, we would encourage existing standards to be used to simplify this process.
Finally, a theme that cropped up often during the day, was the terminology used to describe the services we all provided. Without running through the details here, it became clear that this can be a real problem. Were these debates about e-Invoicing (very limited), e-Trading (typically used in the finance sector) or e-Business (too broad)? Interestingly, there was general support to reclaim the term EDI (Electronic Data Interchange), which has been used more recently to describe the services around Value Added Networks, such as GXS. However, this is a term that was always intended to be generic, was specific to our sector and was not aligned to any document type. The debate, as they say, will go on.
Tim Cole - Chief Operating Officer
Follow Tim on Twitter.