Following Causeway's acquisition of Yotta, the combined organisation created from Causeway and Yotta will jointly be taking part in Highways UK, the highlight of the highways industry's annual calendar (NEC Birmingham, 2-3, November 2022).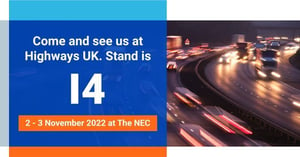 On the opening day of this year's show, Manish Jethwa, Chief Product Officer, Causeway will present, "The Holy Grail of Asset Management – How Innovation is Transforming Highway Management". In his presentation, Manish will focus on how construction and infrastructure asset management companies can transform the management of the built world to create safer, cleaner and more sustainable places for everyone.
Manish will put the spotlight on the significant benefits highway authorities can glean from managing their assets in a holistic way in line with the Department for Transport's (DfT's) risk-based whole lifecycle asset management approach to local authority highways asset maintenance. He will also discuss the close relationship spanning operational asset management for day-to-day management; strategic asset management to better plan future highway projects by interpreting historical data and works execution and management to maximise the efficiency of highway-related projects.
In his presentation, Manish will argue that close links between these critical areas is fundamental in driving both financial and works-management efficiencies for both the authorities responsible for the UK's highway assets and the contractors that support them.
This is made possible through the compelling synergies between the two business and their respective technologies, as previewed in the recent news announcement - Causeway's acquisition of Yotta set to drive synergies across works execution and asset management. By creating a single, integrated end-to-end solution, it is possible to unite and manage the interface between asset management and works execution for local authorities and their contractors, giving both parties a single provider to reduce data silos and improve asset management simplicity.
Causeway will deliver capability across two key areas.
The first, Causeway Maintenance Management, is targeted at contractors working on infrastructure asset management projects. With intuitive functionality and optimised features, the solution helps contractors improve the overall efficiency and profitability of their asset maintenance contracts.
The second major focus for product synergy delivers a single, truly integrated solution designed to bridge the gap that currently exists between local authorities and their contractors. Designed to provide end-to-end job visibility, the solution will help deliver efficient works order execution alongside advanced asset management. In short, from asset monitoring to works completion, local authorities will be able to see the entire asset lifecycle from one solution, enabling them to get more from limited budgets, whilst contractors will get all the real-time data they need to maximise the efficiency of jobs completed.
Causeway's asset management solutions - that includes Causeway Alloy and Causeway Horizons – continue to gain significant traction across the sector. Indeed, they already support well over 35 million assets across 200+ public and private sector organisations, with new customers engaging with the technology on a regular basis. For example, this week alone, it was announced that Carmarthenshire County Council has selected Causeway Alloy to help transform its waste and environmental services delivery.
If you would like to learn more about Causeway's suite of asset management technology, or how the company is working to bridge the gap between highways authorities and contractors, drop us a note at https://www.causeway.com/contact-us and arrange a chat during Highways UK or at a time convenient to you.