There is no denying it's been a challenging year but with any disruption comes a phase of readjustment and improvement. Many engineering design consultancies are revisiting their business continuity plans to ensure they are as resilient as possible to any disruption in the future. Digital technology plays a huge role in this and heavily impacts on project productivity. A key priority for consultancies is ensuring engineers can access their design tools wherever they are, working remotely, travelling or hot desking in different offices. Cloud access to infrastructure and drainage design solutions is integral to keeping teams connected amongst other benefits and should be a consideration for all consultancies large and small.
Optimising resources is another key priority when considering business resilience. The need to ensure all members of the design team have access to the tools they need, when they need them, utilising streamlined workflows to ensure engineers spend less time on low value tasks and more time on value engineering to provide a better service for clients. In addition, the latest innovations in design automation ensure engineers can be as productive as possible.
Digital technology is an essential tool for all businesses, yet it's important to regularly review IT spend, just as you would your car insurance. Software companies are always adjusting their offering and it may be that you can find better tools or a more integrated solution for much less. Always be open to testing or learning about new design solutions available, whether it's joining a webinar or asking for a demonstration. There is no harm in exploring the options.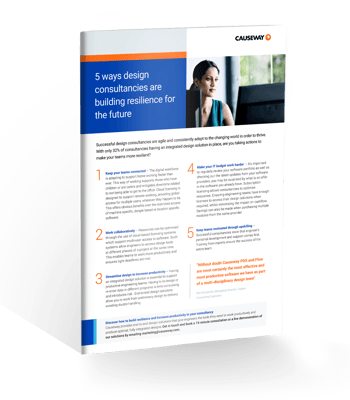 To learn more about the 5 ways design consultancies are building resilience for the future check out our datasheet.