This year's New Civil Engineer TechFest Awards shortlist has been revealed, and we are delighted to announce that we've been shortlisted in two categories!
Causeway has been nominated alongside the best of construction and infrastructure including AECOM, Network Rail, and Mott MacDonald.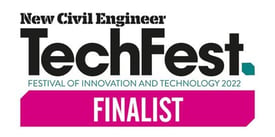 Our entry, 'Causeway and Winchburgh Developments team up to streamline the design of one of Scotland's biggest development projects' has been shortlisted in the 'Best Use of Technology: Design Efficiency' category and the 'Best Use of Technology: Digital Engineering' category.
Winchburgh Developments has been using Causeway PDS and Flow to design roads and drainage networks for one of the biggest, most exciting place-making projects in the UK.
Once complete the £1billion development, 12 miles west of Edinburgh, will deliver at least 3,800 new homes, improved transport links, employment opportunities, state-of-the-art schools, a new canal marina and stunning new outdoor spaces to the east coast of Scotland in a village called Winchburgh.
Speaking on the collaboration, Allan Mason, Technical Manager at Winchburgh Developments said:
"Winchburgh is such a collaborative venture with so many committed partners like Causeway. This partnership has allowed us to develop a realistic design solution, put a viability cost against it and carry it forward quickly – which was integral for us."
Our other entry 'Causeway and Arup join forces for the biggest earthworks project in the UK' has been shortlisted in the Best Use of Technology: Digital Engineering category.
Causeway has been working with Arup on 'HS2 Phase 2a'. Chosen after an extensive testing phase, the company found that Causeway's technology was well-suited to their requirements, even with the complexity of the project.
Arup opted for Causeway Flow, a hydraulic modelling solution for the design and analysis of optimal, compliant and cost-effective storm and foul water drainage networks for HS2.
The awards that celebrate the latest construction and infrastructure industry innovations will be held at the Leonardo Royal London Tower Bridge Hotel in the evening on 24 November 2022, following NCE's TechFest conference.
Visit the NCE Techfest website for more details.