Causeway were delighted to exhibit at the Project Controls Expo on the 14th of November, held at the Emirates Stadium in London. As the only conference of its kind, the Project Controls Expo is dedicated to the advancement of the profession, bringing people together to discuss the crucial issues in the industry.
The conference offered a wealth of knowledge, with tailored theatres focused on Technology, Major Projects, Master Classes and Case Studies. In addition, the conference also gave delegates the opportunity to engage, connect and collaborate across key themes, including the industry's productivity problem, the importance of data, and the opportunities for improvement such as those made through software integration and greater collaboration across major projects.
Tony Chisnall, Director of General Programmes at Defence Equipment and Support (DE&S), opened the conference by outlining the Project Controls profession as a "brand new function", and one which he feels will continue to be hugely important in ensuring the successful delivery of major projects.
Tony continued, touching on the growing significance he feels data has within Project Controls. He suggested that data is what gives projects direction, enabling teams to more deeply understand where a project is going, identify potential risks and challenges, and ultimately make quicker, more informed decisions.
"Project Controls isn't just about data, it's about enabling the right decision making at the right time." - Tony Chisnall, Director of General Programmes at DE&S
Given the quantity of data and software available to support Project Controls, Tony's presentation served as an important reminder that simply having access to software and data isn't enough. The critical difference is what do with the information, and how it is interpreted, analysed and integrated to yield meaningful and actionable insights.
Addressing The Productivity Challenge with Data
As we moved into the Technology zone, discussions shifted to the much-discussed productivity challenge within the construction sector. Speakers referenced a comprehensive McKinsey report to set the scene and convey the full extent of the industry's substandard productivity. As a sector, construction continues to lag behind other industries which have embraced digital transformation and used this as a means of improving productivity and cutting costs.
For instance, McKinsey estimate that a 4-6% cost saving could be achieved by implementing new technology and applying digital transformation best practices, alongside a 14-15% improvement in productivity respectively.
Given cost savings and productivity gains are crucial for a sector with historically tight margins, discussions in the Technology zone also touched on the need to integrate systems to better aid the Project Controls function. It is no longer sufficient to have disparate systems and fragmented data sources relating to different parts of a project. Today, Project Controls professionals and Senior Management teams must be able to access real-time information which permits one, consolidated view of the truth. This will increase transparency and accountability.
This sentiment was also carried forward into the Case Studies zone, with Iain Cameron from LogiKal Projects exploring the challenges of implementing such a programme in your organisation to maximise commercial opportunities.
Iain began by discussing the key factors for implementing a successful digital transformation project, including data. He outlined the importance of bringing digital tools together and removing silos. Iain elaborated, claiming that once data is mined across those integrated silos, the digital transformation journey already begins to yield significant value.
Iain also discussed the importance of choosing the right digital tools. One of the common flaws he has experienced in digital transformation projects is the urge to pick the digital tools an organisation want to work into their business, rather than thinking about the information needed from these tools. Iain flips this common process, suggesting instead that when beginning a project, organisations should first think about the information they really need, and let this dictate the the choice of tools. As a result, information will flow much more effectively.
Leaders and Navigators
A panel discussion regarding the maturity of Project Controls drew the day to a close. The panel, made up of Saurabh Bhandari from Mott MacDonald, Sarah Schutte from Schutte Consulting Limited and Richard Dealhoy, Wood Plc, expanded on a number of key themes from the day.
Sarah Schutte, Managing Director of Schutte Consulting, kicked the discussions off, looking back on the role of Project Controls to echo Tony Chisnall's comments from earlier in the day. Sarah likened Project Controls professionals to navigators, stressing "You are the really important part of how a project is going to move forward: Looking at how far you've come, where you are going, and crucially looking at what is on the horizon, and having the foresight to turn it into something sensible".
Saurabh Bhandari, Technical Director – Project Controls & PMO for Mott MacDonald, agreed with Sarah's depiction of the Project Controls professional as a navigator. He also warned that the profession must become more influential within projects: "We can no longer just give [Project Managers] the information and say it's up to you. Project Controls professionals are being ignored or misunderstood, because there isn't a bite that comes with the buck. There needs to be greater emphasis on becoming leaders."
Richard Dealhoy, Project Controls Director – Programme & Project Solutions for Wood Plc, joined the discussion, describing that in reality, Project Controls professionals often have far too much culpability without the authority to match. He suggested that Project Controls needs to play a greater role in offering solutions to problems, rather than just articulating the risks or challenges that a project may face.
Sarabh agreed, placing further emphasis on the need for collaboration: "Forecasting and telling [Project Managers] about the problem is fine, but we need to be more collaborative, and the only way to do that is to take some more ownership ad drive the project forward".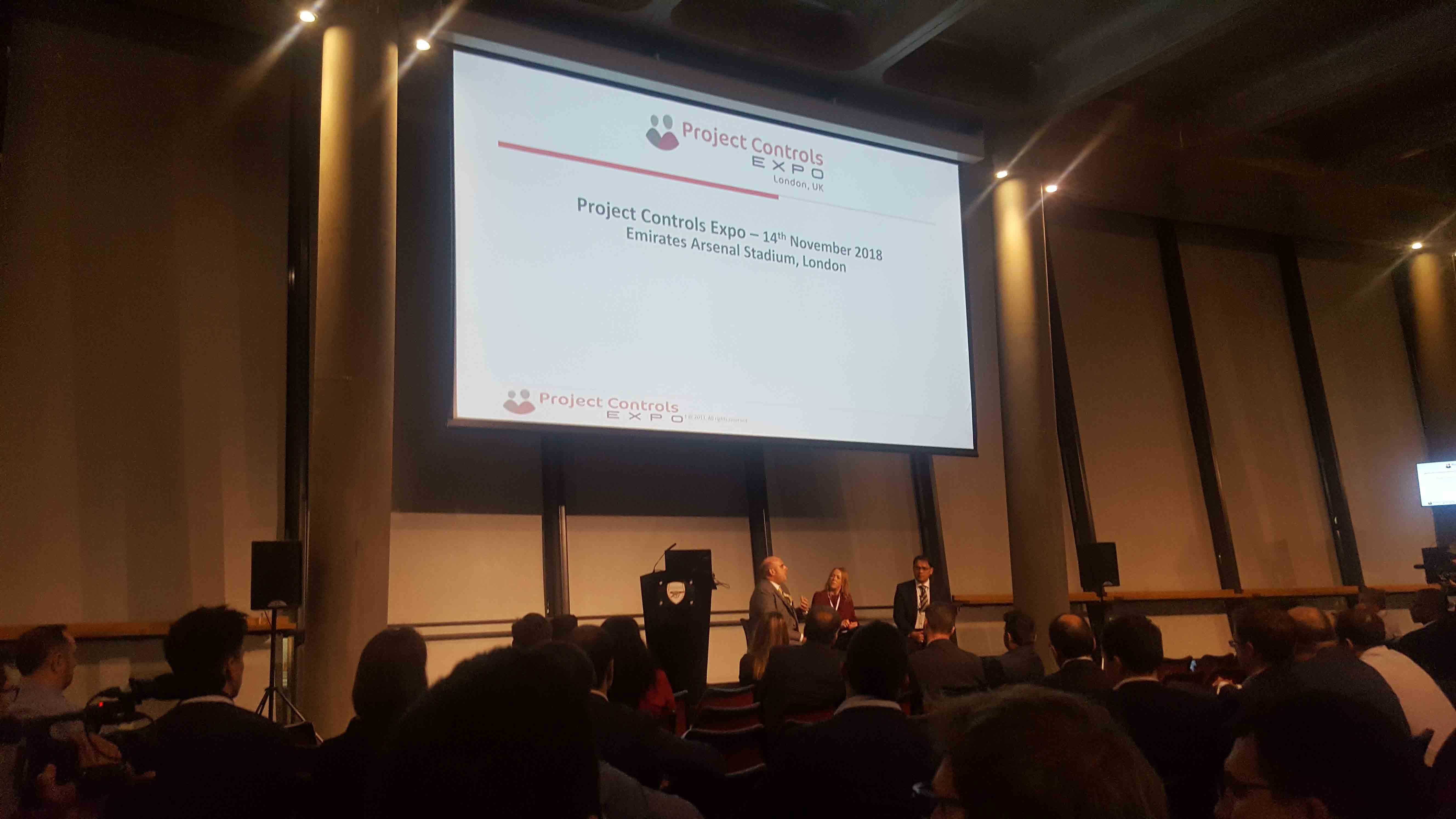 The discussion naturally progressed to explore how to obtain buy-in from Project Managers when trying to deliver a successful project. The panel insisted that there must be greater authority given to Project Controls professionals in order to deliver successful projects.
"You wouldn't challenge a Chief Financial Officer if they said you were going to go bust", Sarabh added, highlighting the need for similar authorities within Project Controls. Sarah also commented, "We need to step up as a profession and make our voices heard."
The panel began to take questions from the floor, sparking further dialogue around data and software. Whilst the panel were all in agreement that software and the ability to interpret data is vital to Project Controls, Sarah suggested that the profession has perhaps become too dependent on its systems. Is it too easy for Project Controls professionals to simply rely on data as the answer to their questions, or does the value lie in the interpretation?
Richard agreed with Sarah, adding, "Software is there to help us comprehend huge amounts of data, but our job is to tell the stories. We need to make that data accessible to other people".
Saurabh then brought the panel discussion to a close, reiterating that Project Controls makes the most difference when professionals are able to effectively communicate the insights they've gained from data and systems. "It's important to create the evidence for the story, showing a believable situation for people to work to".
As the day drew to a close, delegates were left to consider the changing role of the Project Controls profession and the growing need for increased authority, collaboration and integration. Ultimately, as more forward-thinking organisations invest in digital transformation and tackle ambitious projects, the function will play an increasing central role in their success or failure. Because of this, it has never been more important to make sure their voices are heard loud and clear.