Modernising your business infrastructure costs money, but not as much as your legacy software could end up costing. From compliance issues to the lack of support, we discuss the costs of using old and outdated drainage design software.
Technology can help consultancies work more productivity and efficiently. Digitising your drainage designs has the potential to improve collaboration, minimise risks of double-handling data, and reduce operating costs.
For consultancies to reap these benefits, they need to embrace digital transformation. Businesses that rely on outdated technology, no matter how established, will find it increasingly difficult to maintain their competitive edge.
Migrating to a new drainage design provider might seem daunting and expensive. But the costs of sticking with a legacy software are much higher, especially over time.
Why outdated technology costs you
Maintenance
As anyone with an old boiler at home can tell you, the costs of using and maintaining a piece of hardware increases exponentially the longer you hang onto it. It becomes less efficient, consumes more energy and is expensive to fix when it breaks down compared to newer models. But it's also because engineers who specialise in fixing outdated hardware becomes increasingly difficult to find.
Legacy dongle-based tech, too, can be expensive to maintain than modern cloud-based software, and will inevitably experience more issues, which will cost you time and money to fix.
Recommended: Still using fixed single-user licence? Calculate how much your business could save with a floating network licence.
Compliance & compatibility issues
If your design software becomes out-of-date, it becomes harder for you to keep up with industry changes, which might lead to issues of compliance with the latest standards. In some cases, it could pose a risk to your professional indemnity insurance.
Causeway Flow uses gets you results closer to the real-world by using the state-of-the-art hydraulic SWMM5 engine hydraulic SWMM5 engine so engineers can intuitively model more accurate SuDS components such as flow-through pond and permeable paving.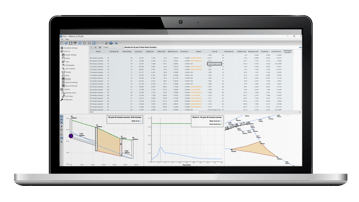 Another problem is that "old" and "new" technologies rarely work well together. This may restrict your team's ability to benefit from new and advanced capabilities that your competitors are likely to use. Don't lose your competitive advantage by using outdated technology.
Stifled approval process
There is a risk that approving authorities may stop accepting designs generated using out-of-date packages – requiring immediate adoption of a new solution.
Outputs designed in Causeway Flow are compliant with UK specific drainage design requirements. We work closely with approving authorities to ensure approvals are quick and efficient.
Recommended: Delivering Compliant Drainage Design with the New Design & Construction Guidance (DCG)
Reduced growth
With recent global events, businesses that were able to rely on their up-to-date and improved IT systems were able to continue operating remotely. Consultancies that were able to adapt quickly, while their competitors were struggling to adjust, managed to stay ahead.
The increasing shift to remote work also means employees are attracted to organisations that use modern technology that allows for flexible working.
Dongle-based software doesn't fit with the flexibility modern businesses require. If a dongle gets broken or lost, it can be expensive to replace, with disruption until it is.
Leveraging mobility also helps smaller business stay competitive. Intelligent design automation and integrated tools like Causeway's help engineers to spend more time on value engineering. As a result, they can complete their tasks more quickly and productively.





Business disruptions
When software is no longer being updated, it's also likely that support by the developer will cease in the long run. This means if you run into technical difficulties, it can result in serious disruptions to your business operations. This in turns leads to decrease revenue.
Modern cloud-based software delivers better accessibility, integration and automation. Your engineers can stay connected to their design solutions remotely with cloud licencing.
In fact, having technology that empowers employees is a key contributor to staff satisfaction and engagement. A global study proved that employees who work in fully-enabled digital workplaces are more motivated and have higher job satisfaction.
How to tell if it's time to switch your drainage design software
So, you know now that using outdated software can cost your business. But how can you tell if it's time to switch?
Ask yourself:
Is my drainage design software still being supported?

Is my organisation growing and the software no longer meets my business needs?

Will the software still be reliable in the future?
Ultimately, the costs of using outdated software may outweigh the initial investment required to update your systems.
Switching to a new drainage design provider doesn't have to be painful. Causeway's in-house product experts and wide array of resources to support your onboarding makes your switch seamless.
Ready to future-proof your business? Book a discovery call today.