O'Connor Sutton Cronin (OCSC), a long-established engineering consultancy based in Dublin, Ireland, has gained a reputation for excellence and has been recognised with numerous prestigious awards. With a commitment to delivering best-in-class solutions and exceptional quality, OCSC places great importance on ensuring that its technology stack is also top-notch.

When OCSC made the decision to move provider, they wanted a solution that not only met their engineering design and analysis needs but also offered a seamless transition and enhanced capabilities. After a rigorous evaluation process, Causeway Flow emerged as the preferred software choice for OCSC.
During the decision process, OCSC compared Causeway Flow with other solutions, but it was Causeway Flow's technical superiority, powerful features, and user-friendly interface that won them over. In particular, OCSC praised Causeway Flow for its ability to provide visually impressive designs through live 3D visualisation, synchronised with long sections, graphs, and hydrographs. This advanced visualisation capability enabled OCSC to better understand the impact of design changes and make informed decisions.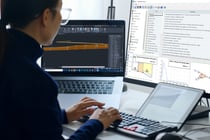 By adopting Causeway Flow, OCSC also gained access to SmartTools, an innovative drainage design software tool. SmartTools seamlessly integrates with standard Autodesk products, such as AutoCAD and Civil 3D, enabling OCSC engineers to optimise their workflows. The intelligent two-way workflow eliminates the risk of double-handling data, saves hours in re-tracing designs, and empowers OCSC engineers to focus more on value engineering.
OCSC also recognised the financial benefits of choosing Causeway Flow. Compared to their previous per-user model, which incurred high costs without meeting their needs, Causeway Flow's subscription model and floating network licences allowed OCSC to achieve significant cost savings. This cost-effectiveness ensured that OCSC could allocate their resources more efficiently and invest in other areas of their operations.
OCSC's partnership with Causeway Flow is not only about software adoption but also reflects their commitment to employee development. OCSC plans to upskill their engineers through comprehensive training, enabling them to fully harness the capabilities of Causeway Flow and enhance their expertise in engineering design and analysis.
We are proud to announce that OCSC is the latest Irish consultancy to join the Causeway community, following in the footsteps of fellow Irish businesses Gilligan and TOBIN. These partnerships signify a growing network of Irish customers who have recognised the value and benefits of Causeway Flow in driving their projects' success.
Brent Olivier, Senior Solutions Manager at Causeway, expressed his delight at OCSC's decision to adopt Causeway Flow:
"We are absolutely delighted to welcome OCSC to the Causeway community. Their decision to invest in Causeway Flow is a clear testament to their commitment to excellence and innovation. By choosing Causeway, OCSC is equipping themselves with powerful design tools to enhance their operations and deliver the very best to their clients. We are excited to collaborate closely with OCSC and support their journey towards continued success. Their adoption of Causeway Flow further strengthens our growing network of Irish customers and reinforces our position as a leader in providing cutting-edge solutions for the engineering industry."
By partnering with Causeway Flow, OCSC has positioned themselves to deliver the highest standards of engineering excellence while embracing innovation in their industry.
If you are interested in how Causeway Flow could benefit your business, get in touch here.