One of the shocking statistics highlighted in a recent report from the Chartered Institute of Building (CIOB) is that construction productivity has only increased by 1.4% since 1997. Unsurprisingly, this has led the CIOB to call for an overhaul of construction business models, with a view to boosting productivity across the industry.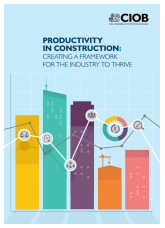 Issues identified as constraining productivity included onerous tendering processes, duplication of effort and under-investment in innovation. Speaking to Construction News, Alasdair Reisner, CEO at the Civil Engineering Contractors Association, commented:
"Everyone is currently chasing their tails trying to find the solution to the productivity puzzle, both in construction and the wider economy. Yet if we are being honest with ourselves, we know where the answers are for our industry.
"Every day we see duplication of effort, underinvestment in innovation, and the time spent jumping through procurement and regulatory hoops that create little value.
"The problem is not one of knowing what we can do to improve productivity, but knowing how the industry can change its whole business model to one that allows these improvements to occur."
Exploiting historic data
One of the issues that can be addressed relatively easily is making better use of historic cost data, as this can make a major contribution to improved productivity. It has significant value for feasibility purposes, benchmarking new projects and 'sanity-checking' ongoing cost plans.
Yet many construction companies are not doing this. They may have vast amounts of historic data stored in their archives but they lack the tools to quickly access, extract and utilise that data. All too often the very thought of spending hours trawling through spreadsheets, or even pieces of paper, is enough to discourage the use of this resource – to the detriment of productivity.
The Causeway CATO Suite enables quick and efficient surfacing of historic project cost data and can present this information professionally and consistently in line with your own branding.
CATO offers the ability to centralise your cost data in one, easily accessible database. This simple to use tool enables your rate data to be re-used and re-based for upcoming projects, as well as for evaluating/adjudicating cost plans. What's more, there is a slick upload routine to enable batches of historic Excel data to be uploaded to the database with a single click.
Moreover, with the growing need for cost consultants to be BIM-ready, the CATO suite also offers BIMMeasure, a full BIM-compatible automated measurement tool that also dynamically integrates quantities into the NRM1 cost plan or bill of quantities.
The CATO suite is a full 'cradle to grave' solution for the cost consultant and is an extremely cost effective way of acquiring the powerful tools required for efficient cost data management in today's challenging climate.
Want to see the Causeway CATO & BIMMeasure in full action? Let us know!