We are delighted to announce that Buro Happold, the renowned international consultancy of engineers, designers, and advisers, has officially chosen Causeway Flow as their new drainage design solution.

As long-standing supporters of Causeway, having previously utilised our Traffic Management solutions (Causeway PDS Line and Sign), Buro Happold's decision to embrace Causeway Flow further solidifies our partnership. We couldn't be happier to have them on board.
With an expanding team and a firm commitment to providing their staff with the best technology available, Buro Happold sought a solution that would not only meet their growing needs but also streamline their drainage design processes. As their existing drainage solution approached renewal, they explored their options. After careful evaluation, Buro Happold recognised that Causeway Flow offered superior functionality and efficiency compared to other alternatives in the market. Moreover, our solution proved highly cost-effective, enabling their global team to work seamlessly together.
A significant driving force behind Buro Happold's decision was the fact that their new recruits were experienced Causeway Flow advocates. Recognising the immense value and potential cost savings that could come from Causeway Flow, these engineers championed its adoption within the organisation.
Additionally, as their previous provider was phasing out their services, Buro Happold saw an opportunity to quietly revisit the market and discover the most cutting-edge, BIM-compliant solution available.
With a well-established relationship as satisfied users of our Causeway PDS Line and Sign solution, Buro Happold naturally turned to Causeway as their primary choice. They reached out to Yalda, their dedicated Account Manager, to discuss their requirements and aspirations.
Recognising the need for seamless integration with their existing workflow, Buro Happold ensured that Causeway Flow was compatible and complementary to their internal processes. To address any concerns, we conducted a session with Buro Happold to demonstrate how our innovative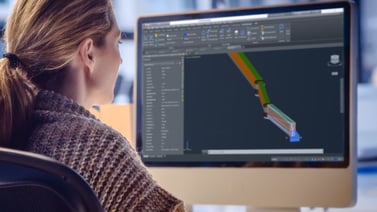 Causeway SmartTools, embedded within standard Autodesk products like AutoCAD & Civil 3D, worked seamlessly with Causeway Flow. This powerful integration simplifies Buro Happold's iterative design cycle, minimises errors, and delivers the BIM outputs they require.
Throughout this period of transition, our team worked closely with Buro Happold to address their specific needs and concerns, solidifying our position as a trusted partner and after just six months of utilising Causeway Flow, Buro Happold's confidence in our solution grew exponentially. The business has since made the decision to fully embrace Causeway Flow, transitioning from its previous mix of WAN, LAN, and dongle-based licensing to our cloud-based licensing system. This shift not only simplified their licensing process but also offered the additional benefit of enhanced flexibility and accessibility.
Impressively, Buro Happold decided to increase their licence count with Causeway Flow compared to their previous provider, primarily due to the superior cost-effectiveness we offered. With a team of 2,500 engineers spread across nearly 40 different locations worldwide, Buro Happold recognised the need for optimal licensing to ensure peak efficiency. Our pricing model and floating network licences allowed them to acquire the optimal number of licences, empowering their team to be incredibly productive without incurring excessive costs.
Looking ahead, Buro Happold and Causeway are excited to embark on a journey of continuous improvement and collaboration. We have organised semi-regular training workshops with Dr. Netsanet Mebrate, the esteemed Product Owner
Speaking on the partnership, Yalda Majdabadi, Senior Account Manager said:
"With the adoption of Causeway Flow, we're thrilled to deepen our working relationship with Buro Happold. We've always admired their industry-leading innovation and commitment to creative, value-led engineering. Their continued trust and confidence in our solutions is a testament to the value we bring to their organisation, and we're excited to continue working closely with Buro Happold to support their journey in providing world-leading engineering solutions."
If you are interested in how Causeway Flow could benefit your business, get in touch with us today.